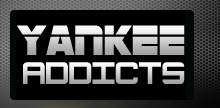 January 24, 2012 · Rick Weiner · Jump to comments
Article Source: Bleacher Report - New York Yankees
Maybe it was the fan in me that got in the way, but when news broke two weeks ago that the announcement of Jorge Posada's retirement was imminent, I did not jump on Bleacher Report to wax poetic.
I decided to wait—perhaps because, deep down, I was hoping for one more year, though I knew, just as everyone else did, that it was time for him to walk into the sunset.
Today, that is exactly what Posada will do as he prepares to announce his retirement at Yankee Stadium.
He finishes his career as one of the most underrated Yankees (and catchers) of all time. Yes, I know that the very idea of a Yankee being underrated sounds impossible, given New York's reputation for "overhyping" everything and everyone.
But it is true—a five-time All-Star, Jorge Posada spoiled Yankee fans for more than a decade and never got the accolades he deserved.
Sure, his defense was never Gold Glove caliber, but he was capable enough behind the plate to call and catch David Wells' perfect game on May 18, 1998, not to mention be a part of five World Series championship teams—three as the starting catcher.
But since 2000, no catcher in baseball has had more home runs (240), RBI (920) or hits (1427) than Posada—not Joe Mauer, not Ivan Rodriguez—nobody.
Since 1901, very few catchers have put up the offensive numbers that Jorge did: he is third in walks (936), sixth in OPS (.848), seventh in doubles (379), eighth in home runs (275) and 11th in RBI (1065).
From strictly a Yankees perspective, Posada ranks seventh in doubles (379), eighth in games played (1,829) and home runs (275), ninth in extra base hits (664) and 10th in total bases (2,888).
Those are the kinds of numbers reserved for an all-time great, not a mediocre compiler at a position that is traditionally not a hot spot for offensive prowess.
While Derek Jeter is the captain—and along with Mariano Rivera, the subdued leaders of the team—Jorge Posada was the fiery leader in the clubhouse, taking the reins from Paul O'Neill after his retirement following the 2001 season—though he began asserting himself well before O'Neill hung 'em up.
Jorge Posada was the heart and soul of the New York Yankees, and his retirement leaves a void in the clubhouse that will not soon be filled.
Whether or not he ever receives the distinction that he is due—his No. 20 retired and enshrinement into the Baseball Hall of Fame—remains up in the air.
But there is one thing that is indisputable.
It would have been nice to see him take his spot, behind the plate at Yankee Stadium, one more time.
Read more New York Yankees news on BleacherReport.com