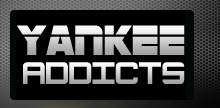 January 24, 2012 · Brandon Galvin · Jump to comments
Article Source: Bleacher Report - New York Yankees
New York Yankees Hall of Fame-caliber catcher Jorge Posada formally announced his retirement on Tuesday, January 26, 2012.
It was an emotional conference, with Posada rightfully breaking down as he called it quits on a legendary career.
Despite a laundry list of Yankee greats, Jorge will forever have a special place in the hearts of Yank fans everywhere. No longer will fans be able to scream the enthralling "Hip-Hip-Jorge" chant after he blasts a game-tying or game-winning home run.
He may not have been the greatest defensive catcher in the game throughout his career, but he always seemed to make a play when his team needed him most on both sides of the ball. To say he was clutch would be an unbelievable understatement.
There is no doubt in my mind that Posada still has a place on this Yankees team as a DH, but we can surely understand why he is retiring. The man simply wanted to stay a Yankee forever, and that's the way it should be.
Posada deserves to have his No. 20 hanging with the rest of the Yankees legends. He is one of the all-time most honorable, respectful, dedicated and talented Yankees to ever grace the diamond.
He finished his career having been blessed with five All-Star appearances, five Silver Slugger Awards and a whopping four World Series championships. More importantly, he earned every single honor.
We can only hope he makes it back to Yankee Stadium as a coach or even an analyst. Posada will be forever missed by the fans and players.
Simply put, watching Yankee games just won't be the same without his quiet confidence, strong demeanor, veteran prowess, hitting and sportsmanship.
Read more New York Yankees news on BleacherReport.com