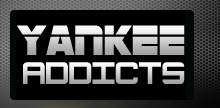 News published by
January 24, 2012
New York Yankees Hall of Fame-caliber catcher Jorge Posada formally announced his retirement on Tuesday, January 26, 2012. It was an emotional conference, with Posada rightfully breaking down as he called ...
December 30, 2011
New York Yankees superstar slugger Alex Rodriguez may have landed him the bombshell of the century in former WWE Diva and Playboy centerfold Torrie Wilson. According to NY Daily News' Bill ...
July 28, 2011
The New York Yankees are once again in heated trade negotiations as the July 31 MLB trade deadline approaches. Aside from the utmost delusional Yankees fan, most realize this pitching ...
July 18, 2011
The 2011 MLB trade deadline, or Judgment Day, as I prefer to call it, is officially less than two weeks away. July 31 is the last day to make a ...
July 9, 2011
Yes, sir, let the praise begin. Derek Jeter just put every hater to shame. Every person that said for the past three weeks that the New York Yankees would be ...
January 30, 2011
As Spring Training draws near, it's time to look at which players are going to be overpaid in 2011 based on their previous performances. How many Yankees and Mets players ...
December 27, 2010
There were conflicting reports this weekend that the New York Yankees were actually discussing whether or not they should bring in one-time Boston Red Sox villain and now free agent ...
December 11, 2010
The New York Yankees have reportedly offered former Los Angeles Dodgers catcher Russell Martin a one-year contract, according to Mark Feinsand of the New York Daily News. Martin had an awful ...
December 4, 2010
It is being reported that the Yankees captain and shortstop will re-sign with the only team he has ever known. Jeter will re-sign with New York for three years anywhere between ...
December 1, 2010
The Yankees battled the Tampa Bay Rays all season for the top record in the Majors. They lost out in the final days of the season, but still made it ...