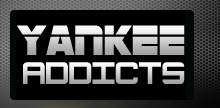 May 5, 2009 · Perry Arnold · Jump to comments
Article Source: Bleacher Report - New York Yankees
Breaking news! New York Yankees catcher Jorge Posada will go on the disabled list because of a problem with his right hamstring muscle.
Yankee insider Sweeney Murty has just reported that Posada will be forced to go on the DL after having an MRI that confirmed the injury.
Posada first came up hobbling on the recent Yankee road trip in Detroit but was back in the lineup in recent games. He started last night against Boston as the designated hitter.
Posada has been one of the most important bats in the Yankee lineup and entered last night's game with a .293 average.
Posada was 2-for-2 hitting last night, raising his average to .312.
The game was delayed by rain and did not start until 9:23. As the game progressed, rain continued, and it was a very cold and damp night.
Late in the game last night in New York, Posada went into second base and came up grabbing for the back of his right leg. He was seen trying to rub the muscle out and trying to stretch.
But he was eventually replaced by Hideki Matsui as DH, and the Yankee organization was hoping that it was a minor injury that would not require any extended time off.
Manager Joe Girardi had said that Posada would not be in the lineup tonight as he was sent for the MRI.
But the breaking news is that Posada will be forced to the DL, and it is uncertain at this point when he will be available to play again.