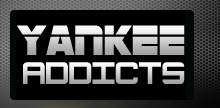 April 29, 2010 · Bronx Baseball Daily · Jump to comments
Article Source: Bleacher Report - New York Yankees
Yankees catcher Jorge Posada was hit in the knee with a pitch from Orioles starter Jeremy Guthrie in the second inning yesterday and had to come out of the game after he felt numbness while running the bases. There is no long-term damage done to Posada, but he will probably have to sit at least a day according to Bryan Hoch of MLB.com.
"I'll just take it day by day and see how it feels," Posada said.
Posada won't miss much time, but he's unlikely to play today and could end up missing a couple of more days. If he's likely to miss even a couple of days they will probably call Chad Moeller up from the minors who is serving as the veteran backup for Triple-A Scranton. Moeller is not on the 40-man roster so the Yankees would have to make room for him on the roster.
There are two ways they could do that, the first is probably most likely. It involves calling Christian Garcia, who recently underwent Tommy John surgery, to the major leagues and then putting him on their 60-day disabled list. That would free up a spot for Moeller. Another less likely scenario would be to designate somebody for assignment, most likely Jonathan Albaladejo.
After the game Yankee manager Joe Girardi was pretty upset with Guthrie. He didn't accuse Gutherie of intentionally hitting Posada, but he complained that he doesn't have the command to pitch inside that way. Gutherie has actually hit two Yankees now this season as he hit Mark Teixeira during spring training which caused Tex to miss a couple of games.
If the Yankees call-up Chad Moeller we'll let you know.
Related Stories
Read more New York Yankees news on BleacherReport.com