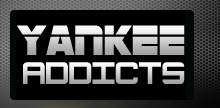 June 25, 2009 · Perry Arnold · Jump to comments
Article Source: Bleacher Report - New York Yankees
New York Yankee fans are arguably the best in baseball. They are fervent, and they are knowledgeable.
And over the years they have had a lot to be proud of when it comes to their team.
Beginning in 1996, the Yankees constructed a dynasty that saw them win four World Series crowns in five years. They went to the World Series in two of the following three years.
Of that dynastic assemblage, there are only four players left: Derek Jeter, Mariano Rivera, Andy Petitte, and Jorge Posada.
Posada was not a regular contributor to the dynasty until 1998, and even then he did not catch every game.
But Posada is a hero to most Yankee fans. That raises the question: can Yankee fans have any objectivity when it comes to Jorge?
Posada has been among the most productive offensive catchers in the history of the game.
He has also been a clutch performer, providing big hits when the Yankees really needed them.
In 2008, Posada injured his throwing shoulder and was eventually forced to have surgery, which ended his season. His absence came at a time when the Yankees failed to make the playoffs for the first time since 1995.
Many Yankee hopes hung on Posada's return from surgery as the 2009 season approached.
Posada worked very hard in the off-season to make certain that he was in shape, and that he could throw to second base.
He was brought along slowly in Spring Training, being held out of games at first, and given time between starts to make certain his shoulder was okay.
By opening day, Posada was ready to go. And for the first few weeks of the season, Posada seemed to be in old form. He was hitting very well, and was throwing out runners at a pace equal to his career statistics, if not a little better.
But then in the first week of May, Posada went down with a strained hamstring, and had to go on the disabled list again.
After his return, he has not been as efficient on defense. His throwing has become more erratic, and his ability to discourage base runners is virtually non-existent. No one seems fearful of Posada's arm.
Posada has thrown out 17 runners this season, but 35 have stolen on him. That is an average of 33 percent, not too bad, and actually better than Posada had done through 2007. At that point, he had a career average of only 29 percent, almost three percentage points lower than the average for major league catchers.
But there is more wrong with Posada this year than just his throwing.
He is still hitting at a .272 clip, not bad for catchers, and very close to his career average. As with most of the rest of his team, Posada has been slumping lately.
In areas that cannot be measured by objective statistics, Posada seems to be having troubles though.
For the entire season there have been questions about his relationships with the pitchers. This was most notable last week when Joba Chamberlain started in Washington and Jorge was behind the plate.
For the entire game the 23-year-old hurler was shaking Posada off. Chamberlain would repeatedly indicate that he did not want to throw what his catcher had called. Jorge would stomp to the mound, and a few pitches later the scene would repeat itself.
The problem was so obvious Yankee announcers talked about it at length, and even commented on it the next night.
At one point in the game, veteran backstop, Jose Molina (now on the DL), was seen in the dugout talking to Joba. Jorge was noticeably not talking to the young pitcher.
Manager Joe Girardi has been defensive when asked about the problems Posada is having with the pitchers, and the pitchers have said all the politically correct things about the veteran catcher.
But when the camera finds Posada on the bench he is almost always by himself, and he often has a surly look on his face, regardless of the situation in the game.
Posada will be 38 years old in August. Without question, his best days as a defensive catcher are behind him. And, at his best, he was never a good defensive catcher.
Rookie Francisco Cervelli came from Double A to replace Posada and Molina when they both went on the DL within days of each other with leg injuries.
Cervelli has been a hit in more ways than one. He has shown remarkable savvy for a young kid. Pitchers have sung his praises for the way he calls a game, and he seems to be much more in tune with the starting pitchers than Posada is.
Last night Chamberlain started again, and it was obvious that Posada was not catching the kid this time. Posada had gone 0-5 the night before against Atlanta, and, although Girardi would never admit it, it was better to have Cervelli catch Joba.
But Joba turned in one of his best performances of the year, being much more efficient and much more relaxed throwing to Cervelli. He seldom shook off the signs, and seemed in control of all his stuff.
This writer has often been critical of Posada's defensive abilities. Many other Yankee fans have taken me to task, and backed up Posada. There comes a point in time when every team has to move on, however, and old heroes have to find new roles.
Considering his age, his history of injuries over the past two years, and his obvious declining skills, it is time for the Yankees to re-calculate Posada's role on this team.
He has openly said that he wants to continue to catch, but the team wins more with Cervelli behind the plate.
The Yankees cannot do without Posada's bat, but with DH Hideki Matsui slumping very badly, and in the last year of his contract, it may be time for management to move Posada in as the primary DH, and let Cervelli assume first-string status.
Many Yankee fans are going to continue to support Jorge, and that is fine. It is expected, and it is noble. No one wants to throw him under the bus.
But, in games of late, his stubbornness, his surliness, and his declining ability to keep runners from scampering, dictate that the move has to be made soon.
It is doubtful that many of the fans, especially younger ones who remember only Posada as the primary catcher, will be comfortable with Posada tucking his tools of ignorance away in a trunk.
The time has come for all Yankee fans to attempt to look at the situation objectively, and realize that the team will be better off when Posada is no longer the primary catcher.