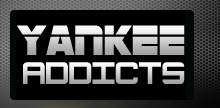 May 11, 2009 · Marisa Scolamiero · Jump to comments
Article Source: Bleacher Report - New York Yankees
Johnny Damon has been one of the Yankees' hottest hitters over the past month. Damon is batting .314 with nine home runs, and 25 RBI. He has been providing most of the Yankee offense for the past couple of weeks.
Before Jorge Posada landed himself on the DL, he was providing a lot of the offense. Alex Rodriguez has played three games since coming off the DL, and it is uncertain exactly what he'll be able to do as he works his way back from the hip surgery.
Mark Teixeira is barely hitting .200 and hasn't been able to provide the line up with much support either. Hideki Matsui has also cooled off lately as well so the Yankees' offensive weapons are becoming less and less.
Damon, who's usually the guy laying down a bunt or getting an infield hit to set the table for the offense, has been the one hitting the big home runs lately.
Johnny is in the last year of his contract with the Yankees and has expressed interest in returning next year. There are many who believe players push themselves more in the final year of their contracts so that when it's time to negotiate, they are in a better position.
However, for Johnny Damon, his success has less to do with trying to get a better contract, and more to do with being healthy.
When he first joined the Yankees, Damon was plagued with leg injuries. He had a broken bone in his foot from a crash into the outfield wall in Toronto, and the cramps he'd get in his calves also limited his playing time.
In 2006, Damon reported to camp over weight and out of shape. He had to catch up to everyone else, and as a result didn't put up the numbers he wanted to.
For the 2007 and 2008 seasons, he put up decent numbers. He was relatively healthy, despite the shoulder injury he suffered last July after crashing into the wall at Yankee Stadium.
What many people didn't realize at the time was that while Johnny dealt with the physical injuries, he also dealt with the feeling that he might not want to play baseball any more.
After suffering the broken bone in his foot in 2005, Damon spent the off season at home taking it easy. All he wanted to do was take that time to play with his kids, but when the simplest thing like chasing them became difficult, he felt no motivation to get in shape for baseball.
Damon went to Joe Torre the following spring and expressed his lack of desire to play. Torre and the Yankees allowed Damon some time off to get his head together, and after a visit with his father, a retired army vet, Damon was ready to play ball.
Yet, in 2007, Damon was visited by the same doubts again, and the Yankees weren't sure what to expect from Damon. That spring, he left the team for a few days. If the organization was asked where he was, they simply explained that he was dealing with some personal matters.
After a few days, Damon realized he needed to be with his team. Since then, Johnny hasn't wavered in his desire to play baseball.
2009 has started off as a stellar year for Johnny Damon. Despite being moved to the two-hole in the line up to help the number of double plays Derek Jeter was hitting in to, Damon is still setting the table for the bigger bats in the line up.
Right now, Damon is the big bat in the line up, and with his legs healthy, he's giving the Yankees exactly what they need, and that's an offensive power boost.