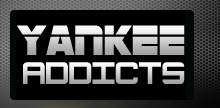 March 29, 2010 · Bronx Baseball Daily · Jump to comments
Article Source: Bleacher Report - New York Yankees
Former Yankee Johnny Damon and general Manager Brian Cashman got a chance to meet on the field yesterday when the Tigers played the Yankees in a spring training game.
It was the first chance the two sides met since Damon's somewhat ugly divorce from the team this offseason and from all accounts their chat went very well.
"I just hope what is remembered is that I was proud to bring him here and that he was a huge part of how the roster was built, how the team played and succeeded, and how the clubhouse came together," Cashman said. "He's a great guy. I am glad we had a chance to visit."
And here is a short quote from Damon:
"Everything is good now," Damon said. "No problems."

Thoughts
Baseball is a business and nobody knows this better than these two. Cashman runs the Yankees and Damon hired Scott Boras to be his agent. You can't run the Yankees or hire Boras without knowing that the bottom line is that baseball is a business.
The Yankees wanted to keep Damon this offseason, but the problem is that they wanted roster flexibility more and he is a very popular player. So the Yankees did what they had to do to ensure roster flexibility while not alienating Damon fans.
Overall I'd say they accomplished that, it wasn't perfect, but left field won't be patrolled by a 36- and 37-year-old Damon instead of Brett Gardner this season and a much more accomplish, and younger than Damon, Carl Crawford, or Jayson Werth next season.
And don't forget, that's what this was all about, keeping left field open for a much younger and better long-term option next offseason.
If Damon would have signed a cheap, one-year deal, and agreed to play a handful of games at DH then the situation might be different, but Cashman knew Boras wouldn't let that fly or at least he would have held the Yankees offseason plans up for quite some time. Instead they went the easy route, a fast, cheap, quick deal with Nick Johnson.
Read more New York Yankees news on BleacherReport.com