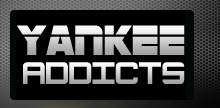 February 23, 2010 · Colin Krouse · Jump to comments
Article Source: Bleacher Report - New York Yankees
Welcome to the 11th edition of "Daily Random Sports Thoughts!"
For those not familiar, I pick a team, player, or any other topic in sports that I have five random thoughts about. I'm trying to get an article on here every day.
Today's lucky random sports topic is—Johnny Damon.
1) Congrats on finally signing with a team! It's a shame you didn't come back to the Yankees, with that great "lefty-pull" park, but congrats on becoming the newest Tiger!
2) But seriously, you were thinking about the Tigers even after you left the Red Sox? Come on! Does anyone besides me think that that's just a case of a guy trying to say all the right things? How does he remember that? It was in, like, the 2005-2006 off season! I can barely remember homework assignments from last night.
3) And Johnny, I gotta say, you kind of threw the Yankees under the bus a little bit in your interview with MLB Network. "I kept trying, kept talking. I wanted to come back, but when they go out and sign Nick Johnson before me……."
4) And Barry Larkin also recommended that you grow the hair back. Sorry Barry, but bad idea. Ballplayers should look like ballplayers, and cavemen aren't usually looked at and thought of as such.
5) None the less, I'm sorry to see you go! "Johnny B. Good" was a big part of the 2009 team, and it's sad to see him depart.
So thanks for reading today's daily random sports thoughts. Good luck in 2010, Johnny!
Read more New York Yankees news on BleacherReport.com