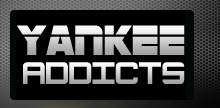 March 13, 2012 · Harold Friend · Jump to comments
Article Source: Bleacher Report - New York Yankees
From 1982-87, John Sterling worked for Ted Turner's Atlanta Braves, broadcasting the team's games on TBS.
Sports editor Buddy McCarter didn't mince words when it came to his opinion of Sterling in a column written in May, 1985.
"John Sterling … has to rank as one of the all-time worst announcers in the game."
One of Sterling's favorite phrases in those days was "mind-boggling." He worked with Pete Van Weiren, Skip Caray (Chip's daddy and Harry's son) and Ernie Johnson (Ernie Johnson Jr.'s daddy). None liked working with Sterling.
St. Louis shortstop Ozzie Smith had just signed a lucrative contract. Sterling told the audience that Smith had just signed a "mind-boggling" contract and that anyone associated with the game of baseball knows how good Smith is.
He continued, "There just isn't anything Ozzie Smith can't do."Broadcaster partner Pete Van Weiren couldn't take it any more. "I know something he can't do. He can't wait to pick up his next check."
Vince Coleman hit an inside-the-park home run a little later. Sterling asked, "Have you ever seen an inside-the-park home run where the runner didn't have to slide at home?"
Skip Caray zapped Sterling as members of the broadcasting crew had trouble hiding their chuckles.
"Yes, when outfielders collide and the runner circles the bases as the ball rolls around," Caray said.
When knuckleballer Phil Niekro was pitching, Sterling almost continually reminded fans that "Knucksie must get his knuckleball over the plate to be effective."
Stating it once or twice would have been sufficient, but not for Sterling.
Dave Skretta wrote that Sterling has been given the most desirable and influential seat in sports radio, but he is hardly Mel Allen or Red Barber.
Joe Torre, who had the misfortune of managing the Braves when Sterling did their games and the New York Yankees when Sterling did their games, made an interesting comment.
"He's very outgoing, and in some areas – what's the word? – oblivious," Torre said, laughing. "He's oblivious to a lot of things, too."
The best line was that Sterling, who on occasions makes excuses for a player's mistake, is not beyond saying the reason that Derek Jeter missed a pop fly was because the sun got in his eyes, even if the game were being played in a domed stadium.
Sterling admits that often, he is thought of as a clown. He laughs it off, probably because he makes more money than his critics.
Read more New York Yankees news on BleacherReport.com