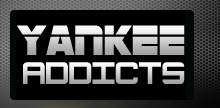 February 8, 2012 · Harold Friend · Jump to comments
Article Source: Bleacher Report - New York Yankees
On Nov. 26, 1962, the New York Yankees traded first baseman Bill "Moose" Skowron to the Los Angeles Dodgers for right-handed pitcher Stan Williams.
But this isn't about Skowron or Williams. This is about Joe Pepitone.
The Yankees needed a reliable first baseman to replace Skowron. Joe Pepitone was waiting in the wings.
Ralph Houk, who led the Yankees to World Championships his first two seasons as manager, intended to give the 22-year-old Pepitone the chance to win the job.
"I think we're well protected at first base," Houk told reporters. "If Joe doesn't make it next year, I'll give Hector Lopez a whack at the job. We've also got Dale Long, who can do a good job as a fill-in."
Pepitone not only won the first base job. He provided the Yankees with 27 home runs, batted in 89 runs and was almost flawless on defense at first base. He also played 16 games in the outfield.
The Yankees won 104 games on their way to their third consecutive pennant, a streak that would reach five to match the 1949-53 Yankees, before it ended in 1965.
Roy White, who, like Pepitone, has become an almost forgotten Yankee, joined the team in 1965. He was impressed when he saw Pepitone hit.
"(Pepitone has) the quickest bat that I had seen in major league baseball…and, to this day, I still say that. He had the most compact swing I have ever seen."
Whitey Ford, whom Pepitone helped many times with great plays, appreciated Pepitone's defense.
"The only Yankee first baseman I've ever seen who even came close to Don Mattingly defensively was Joe Pepitone, who could have been one of the greatest Yankees…."
Pitcher Bill Monbouquette, who had been Ted Williams' teammate, raved about Pepitone: "Pepitone had as much ability as anybody I've ever seen play."
Pepitone never reached his potential, but he had his moments.
After he lost a throw from third base in the white shirts at Dodgers Stadium in the 1963 World Series to cost the Yankees the game, Whitey Ford walked over to Pepitone. The unflappable Whitey said: "See, I told you Joe that you would mess up one of these games."
Pepitone, to this day, isn't certain if Ford had been serious.
In Game 5 of the 1964 World Series, the St. Louis Cardinals and Bob Gibson were blanking the Yankees in the bottom of the ninth inning. Mickey Mantle reached first on an error by shortstop Dick Groat but Gibson struck out Elston Howard.
Pepitone hit a drive up the middle that ricocheted off Gibson. One of the greatest fielding pitchers ever, Gibson recovered to throw out Pepitone with Mantle moving to second. No one will ever convince Pepitone that he wasn't safe at first.
Tom Tresh's home run tied the game. In the 10th inning, Tim McCarver's three-run home run won it.
Joe Pepitone had a fine career, but the truth is that he could have made us even prouder.
Read more New York Yankees news on BleacherReport.com