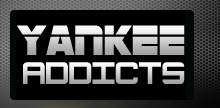 March 10, 2010 · Harold Friend · Jump to comments
Article Source: Bleacher Report - New York Yankees
Joe Pepitone became the New York Yankees' first baseman when Bill Skowron was traded to the Los Angeles Dodgers following the 1962 season.
The Yankees had signed Pepitone in 1958, and after spending four seasons in the minors, Joe joined the big team for the 1962 season.
While a student at Manual Trades High School in Brooklyn, Joe was shot in the stomach in a schoolyard dispute in 1957.
When he signed with the Yankees, one club official privately believed that Joe would wind up being stabbed in an alley or committed to a mental institution.
Lack of Dedication
The Yankees had given Pepitone a $25,000 signing bonus when they decided he would become Skowron's backup at first base.
There is a great story that Joe spent all the money on his way to the Yankees' training camp in Ft. Lauderdale on a new Ford Thunderbird, a boat, and a dog.
Joe Pepitone was supposed to become a star, but that never happened.
He had some good seasons, but he lacked the dedication to the game that is a critical part of being ranked among the greats.
In his eight seasons in New York, Pepitone batted .252, with a .294 on-base average and a .423 slugging average.
His best batting average was .271, in 1963, which was his first full season, and his best home run output was 31, in 1966.
The left-handed-hitting Pepitone batted only .241 against left-handed pitching.
A New Attitude
During spring training in 1967, Pepitone told reporters that he was going to become serious about his career.
"I still make jokes in the clubhouse, and kid around with the fans, but I'm a more serious ballplayer now. I know I'm of more value to the club. I'm in a position to make more money, and if I come up with a good year, I can own New York," said Pepitone.
"I discovered the city, the Copa, and all that. I found I could hit .996 on the street. It probably took 60 points off my average."
The Yankees were coming off a 1966 season in which they finished last.
Mickey Mantle was now going to be the first baseman, and Pepitone was going to follow Earle Combs (.325 lifetime batting average and Hall of Fame), Joe DiMaggio (.325 lifetime batting average and Hall of Fame), and Mantle as the New York Yankees' center fielder.
However, Pepitone was not a player in the old Yankees' image.
Joe had squandered his bonus money, enjoyed acting as the team clown, was a swinger, and was the first player to use a hair dryer in the clubhouse (when he joined the Cubs).
Teammate Jim Bouton, in his groundbreaking book Ball Four, described Pepitone as extremely vain. He always carried a bag of hair products as he attempted to control his rapidly balding head.
Joe had not one, but two toupees.
One, he explained, was for general use, while the second was to wear under his cap while he was playing. He called it his "game piece," which once came off when Joe respectfully removed his cap during the playing of the national anthem.
Joe didn't come up with a good year in 1967. His 31 home runs fell off to only 13, with a .251 batting average.
Following two more mediocre seasons, the Yankees traded Joe to the Houston Astros for Curt Blefary.
During the middle of the 1970 season, the Astros sent Joe to the Cubs, and he finished his underachieving career in 1973 with the Braves.
Read more New York Yankees news on BleacherReport.com