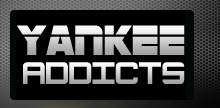 June 10, 2009 · Perry Arnold · Jump to comments
Article Source: Bleacher Report - New York Yankees
The New York Yankees were destroyed in Fenway Park Tuesday night, losing to Boston 7-0.
This is the sixth straight loss the Yankees have suffered at the hands of their archnemesis, the Boston Red Sox.
It has become apparent that Joe Girardi thinks the New York Yankees cap with the interlocking N/Y is actually Merlin's magician's cap.
Girardi is convinced that he is a conjurer, a Merlin capable of experiments that will lead to magical results.
He simply cannot avoid the temptation to experiment like a wizard or a mad scientist
Girardi's latest experiment started last week when he began to test his starting rotation by switching everyone around to give Chien-Ming Wang a start on Thursday.
This pushed all the other starters back one day. Then a rainout on Friday night pushed the hurlers back one more day.
So Girardi conjured up a scenario where A.J. Burnett was pitching on six days' rest and obviously was completely out of sync.
Burnett was horrendous, failing to finish the third inning while throwing 84 pitches, giving up five walks, five hits, and five runs, three of which were earned.
Wizard Joe has also conjured lately that, despite the great work by Francisco Cervelli, he can work magic with Jorge Posada behind the plate.
Posada reinforced the opinion of many that he is a terrible catcher as he allowed two passed balls and generally looked like a mad puppeteer's marionette dancing on veiled strings as he jumped around behind the plate without reason.
In a game in which he had decided to sit DH Hideki Matsui and had the perfect chance to get a great defensive catcher in the game and still use Posada's potent bat, Girardi chose to keep Cervelli wasting on the bench.
Instead, Wizard Joe decided that Brett Gardner was a better option than either Matsui or Cervelli in the game.
Admittedly, Matsui is mired in a slump, but few would speculate that Gardner is more likely to hit Josh Beckett.
Girardi also put on Merlin's hat to cast a spell on his outfield.
As Wizard Joe is wont to do, he had an outfield last night that had no player in the same position he had started the night before.
In the final game against the Rays, Monday night, Johnny Damon started in his usual spot in left, Melky Cabrera was in center, and Nick Swisher was where he has most often been since Xavier Nady's injury, in right field.
Considering that his team was going into the den of their most hated enemy, one might have thought Girardi would have counted on stability to provide some comfort to his charges.
But no—Wizard Joe decided to use Damon as his DH in place of Matsui.
It may never have occurred to the conjurer that Damon has more experience in Fenway Park than all of his other outfielders combined, since Damon roamed the pasture in Fenway for four years when he played for Boston.
With Damon on the bench, Girardi decided to put his favorite player, Brett Gardner, in center field.
That meant Cabrera, who won the job from Gardner after "Gardy" proved he was not ready for prime time once the regular season began, had to go somewhere else.
If you have not been keeping up with Wizard Joe, you might have thought the logical thing would have been to just slide Melky over to left if Wizard wanted "Gardy" placated by playing center.
But no, just moving one outfielder is not enough for Wizard Joe. Instead, he moved all three. So he took Swisher out of right and put him in left and placed Melky in right.
The short field, high wall, and indentations of the manual scoreboard on the left field Monster make it one of the more difficult fields in all of baseball. Most observers would also agree that Swisher is the least capable of the three outfielders Wizard Joe chose to use last night.
Logic might then have indicated that Wizard would not move Swisher from his accustomed place in right and force him to play the Monster in left.
But that is exactly what Wizard conjured, and Swisher was in left.
There were no plays from the outfielders that contributed to the blowout win for Boston.
But it is impossible to determine if Wizard Joe's constant conjuring affects the players' game overall.
Do the constant changes Wizard Joe conjures up affect the mindset of his players?
Does playing a different position in the field affect the player when he is hitting?
It is certainly possible. But none of the minions under the Spell of Wizard Joe are going to tell anyone that, as long as Girardi is still wearing the magic hat.
Josh Beckett is the main reason the Yankees never had a chance. He gave up only one hit and two bases on balls last night.
Three Boston relievers mopped up for three innings and gave up only one more hit total.
The Yankees, who had the best record in the American League going into the game and had been hotter than any other team over the last three weeks, seemed to never be in the game.
This writer is willing to speculate that Wizard Joe's conjurings have affected his players.
Another recent experiment that coincided with the decision to return Wang to the starting rotation saw Phil Hughes relegated to the bullpen, where he sat for seven straight days as the Wizard apparently forgot this Knight in Shining Armor was down there.
Finally on Monday night, Wizard Joe remembered that Sir Phil awaited in the pen, and he brought Hughes in for his first relief appearance of 2009.
Hughes pitched one inning of brilliant baseball, as his fastball was clocked as high as 95 mph. He overwhelmed very good hitters for Tampa Bay.
But after one inning, Wizard Joe called on Sir Phil Coke, again for only one inning, and again, this Knight proved up to the task.
But in the ninth, Wizard Joe called for his greatest Knight of the Bullpen, Mariano Rivera.
This was the third game in a row Wizard Joe had called on Sir Mo. On Saturday, Wizard Joe had conjured a strange potion when he insisted that Rivera intentionally walk hobbled Evan Longoria, who had been unable to start and was coming off the bench cold as a pinch hitter.
The Yankees lost the game, and the next hitter after Longoria, B.J. Upton, drove in an insurance run off Sir Mo.
On Sunday, when Longoria once again could not play and once again was sent in late in the game to pinch hit, Wizard Joe decided to let Sir Mo pitch to Longoria, and Mo induced a weak ground ball to second base.
By calling on Sir Mo after the Two Sirs Phil had pitched so well, Girardi insured that Rivera would not be available in the first game in Boston. It turned out that New York would never be in a position to call on Rivera. But Girardi could not have known that when he made his decision on Monday to use him for the third day in a row.
His constant experiments are dangerous, and if he does not soon understand that his experiments damage his team, Wizard Joe may soon turn some of New York's handsome princes into toads.