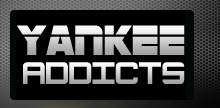 May 27, 2009 · Perry Arnold · Jump to comments
Article Source: Bleacher Report - New York Yankees
Joe Girardi has been the subject of a great deal of criticism for decisions he has made as the second-year manager of the New York Yankees.
Choices Girardi made in the weekend interleague series with World Champion Philadelphia just add to the speculation that Girardi is in over his head.
The series began on Friday night in New York. The Phillies started right hander Brett Myers, who has pitched very well for Philadelphia this year.
A.J. Burnett was going for the Yankees, which had been as hot as any team in major league baseball in the past two weeks.
One of the remarkable stories in the Yankees' recent win streak has been the play of rookie Francisco Cervelli. Cervelli was called up from Double-A Trenton to fill the spot of injured catchers Jorge Posada and Jose Molina.
Cervelli has been playing great baseball, inspiring confidence with his defensive abilities and providing some unexpected help on offense.
However, Girardi chose to start Kevin Cash at catcher Friday night against the World champions.
Cash has been terrible at the plate and is almost an automatic out. Cervelli, on the other hand, was hitting .323 at the time.
The Yankees lost that game 7-3 as Burnett continued to be inconsistent.
Saturday saw Andy Pettitte on the mound for the Yankees. Lefty J.A. Happ, started for Philadelphia.
Girardi chose to bench DH Hideki Matsui in favor of giving third baseman, Alex Rodriguez, a half-day by putting him at DH.
Ramiro Pena started at third and Girardi completely shuffled the batting order, hitting Robinson Cano fifth behind A-Rod and having Melky Cabrera in the six hole.
Cervelli started behind the plate.
But, in the eighth inning, Girardi decided to make some changes.
He had rookie outfielder, Brett Gardner, pinch hit for Cervelli, who was hitting over .300 at the time. By comparison, Gardner came into the game hitting .235. Gardner came through with a double.
Despite Gardner's success, the move had to raise eyebrows, considering Cervelli's recent play and the fact that Girardi was removing his catcher for a pinch hitter.
Then, Girardi pinch hit for third baseman Pena with Matsui, who has been mired in a horrible slump. Matsui struck out.
At that point, Philadelphia led the game 4-2 and Girardi's defense had been made weaker with the insertion of Angel Berroa at third and Cash behind the plate.
The Yankees did manage to come back with a three-run bottom of the ninth to salvage the win on the strength of a game-winning hit by Cabrera.
On Sunday, Philadelphia started Cole Hamels, last year's World Series MVP and one of the toughest left handers in the game.
Girardi, who had kept Matsui out of the game on Saturday, decided to start the slumping Matsui against Hamels.
Girardi also sat switch hitting Nick Swisher in favor of left-handed hitter Brett Gardner.
Swisher has been hitting very poorly, and went into the game with an average of .226 compared to Gardner's .244.
Swisher certainly has more power than Gardner, and would have hit right-handed against Hamels.
The decisions would get a little stranger.
In the ninth inning, second baseman Robinson Cano got a hit for the Yankees with the Phillies ahead 3-2.
Girardi sent Ramiro Pena in to run for Cano, who is not a slow runner.
Pena scored on a hit by Cabrera. But, in all likelihood, Cano would also have scored on the hit.
After tying the game 3-3, Girardi continued experimenting. He let Matsui hit and he made another out, going 0-5 for the game.
But then Girardi sent Swisher to the plate to pinch hit for Cervelli again, as Gardner had done the day before.
Cervelli had hit a double earlier in the game. Swisher grounded out weakly. And again, with Cash coming into the game for Cervelli, Girardi removed his catcher for a pinch hitter and weakened his defense.
The same could be said for Pena replacing Cano. Pena is an excellent defender, but is a natural shortstop and has played third base more this season with A-Rod on the disabled list. Pena went in for the sure-handed Cano at second base as the game went into extra innings.
This proved problematic. Cano's turn to bat came around as the game was in extra innings, but he was no longer in the lineup.
Girardi had replaced a .300 hitter with a kid who is hitting .250 for the year. Pena made an out in the bottom of the 11th inning as the Yankees failed to come from behind and lost 5-4.
On Monday, the Yankees traveled to Texas to take on the Rangers, also one of the hottest teams in baseball.
The Yankees would go with young Phil Hughes, who would pitch another brilliant game, giving up only three hits and no runs in eight innings.
Girardi would once again fiddle with the Yankee lineup. This time he chose to sit Matsui again and let leadoff hitter and shortstop, Derek Jeter, assume the role of designated hitter for one game.
That meant Pena was now playing shortstop, his third infield position in three days, as the Yankees used their third designated hitter in as many days.
Cash was once again behind the plate. For the first time all year, he provided some offense with three hits in the Yankees' 11-1 romp.
However, it meant that each catcher had caught twice in four days. Girardi had pinch hit for Cervelli twice, despite his .300 average, but had not pinch hit for Cash despite his frustration at the plate.
The Yankees lost the second game in Texas 7-3 on Tuesday night.
Girardi once again had both Matsui and Swisher in the lineup at a time when neither of them was hitting well. Matsui would get two hits in the game, but Swisher would fail to get a hit in two trips to the plate and finished the night at .222.
Girardi seems convinced that he can make a difference in the games by the way he uses the players.
From another perspective, Girardi seems unable to leave his team alone and let them play.
There is no conceivable explanation for refusing to let Francisco Cervelli catch six games out of every seven. The kid is a great defensive catcher and has been a consistently good hitter over the past three weeks.
Girardi seems unable to grasp the effect his machinations have on his defense.
Moving Ramiro Pena around three different infield positions in three days is similar to the way he has used Melky Cabrera in the outfield. Cabrera also has played all three outfield positions in three consecutive games recently.
Yet, when Phillie outfielder Jason Werth misplayed a flyball in the game on Saturday, Girardi commented that Werth was usually the right fielder and that the ball just comes to you at a different angle in left field, probably resulting in Werth's inability to corral the fly.
If Girardi can understand that about Werth, why can't he understand the impact on his own players when he moves them around as much as he does.
This is not a new problem with Girardi. He had the same issues last season when he displayed an inability to put the same team on the field game after game and just let them play.
It may not have cost the Yankees any games of the last five they have played. But the loss of Cano's bat in extra innings was not helpful on Sunday.
These kinds of decisions leads one to wonder whether Girardi is ready for this job.