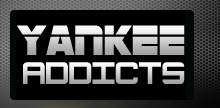 April 27, 2009 · Perry Arnold · Jump to comments
Article Source: Bleacher Report - New York Yankees
The New York Yankees have struggled to a .500 record after three weeks of the young baseball season.
It seems as though matters are worse than their record would indicate.
In three of the games, the Yankees have truly been embarrassed.
In Tampa, the Yankees were beaten 15-5 by the Rays.
At home against Cleveland, starter Chien Ming-Wang was abused for the three straight start and the Indians clobbered New York 22-4.
And, on Saturday, the Red Sox beat the Yankees 16-11 in a game that may have seemed much worse for New York because starter A.J. Burnett had been staked to a quick six run lead.
But questions must be raised about some of Joe Girardi's decisions as manager. If the questions are not answered soon and satisfactorily, then one must wonder whether Girardi will be replaced and whether the Yankees will find themselves too far behind to have a chance at post season play.
In early games, decisions to bench Johnny Damon and to hit Brett Gardner in the lead off spot were questionable.
In Baltimore, Girardi's use of the bull pen was brought into dispute, as his use of relief pitchers had been last year.
But in the series in Boston over the weekend, Girardi just seemed to be in over his head. Several of his decisions seemed mindless.
In the game Friday night, the Yankees were leading 4-2 in the eighth inning. Girardi had called on rookie Jonathon Albaladejo and the kid was doing a very good job.
Albaladejo pitched one inning, gave up no hits, walked no one and struck out one hitter.
Then, with two outs in the eighth and with a no ball and one strike count on a hitter, suddenly, Joe Girardi came to the mound.
Michael Kay was calling the game on YES and wondered what was going on. At first, Kay thought that Girardi was going to call for Damaso Marte, a left handed reliever, since the Boston hitter was a lefty.
But, instead, in the eighth inning, with two outs, Girardi signaled for his closer, Mariano Rivera.
Mo got the batter out and had two outs in the ninth when he gave up a two run home run to Jason Bay that tied the game.
No one can say that Girardi's decision to bring Rivera in in the eighth inning cost the team the game.
What one has to question is what it may have done to the psyche of the young kid, Albaladejo.
He had pitched very well and had gone ahead on the hitter with two outs in the eighth.
Did Girardi's move tell the kid that his manager has no confidence in him? What will go through his mind the next time that he is under pressure? Will he continue to look to the bench to see what Girardi is going to do?
Later in the same game, Damaso Marte had been brought in after Rivera blew the save in the ninth.
Marte was acquired as a left handed specialty reliever. His role is to come in and pitch to key left handed hitters in critical situations.
But he pitched the tenth and then came out for the eleventh. With one out, Kevin Youkilis came to the plate.
Youkilis is the hottest hitter in baseball with an average at the time of .429. Youkilis bats right handed.
On deck was J.D. Drew, a left handed hitter who was hitting under .270 at the time.
One might have thought that Girardi would have instructed Marte to walk Youkilis and to pitch to Drew using Marte's skill to its best advantage.
Instead, Girardi let Marte surrender the game-winning home run to Youkilis, who has developed a well earned reputation as a Yankee killer.
In the finale last night in Fenway, Girardi started with an odd decision. Johnny Damon had a sore left shoulder, and was held out of the game.
But, for some unexplained reason, Girardi chose to move his right fielder, Nick Swisher, to left field and to insert Melky Cabrera in right.
Swisher has played 111 games in his career in left field and 211 games in right. Since the injury to Xavier Nady, Swisher has been the Yankees regular right fielder.
Cabrera had played left field in Fenway before.
So what went into Girardi's thinking? Melky is a faster runner and there is more ground to cover in right? Swisher has more experience and the Green Monster is an imposing problem for fielders?
Who knows for sure, but Girardi has a penchant for moving players around, having them play different positions, and hitting them at different spots in the line-up.
Finally, in a critical stage in the game with the Yankees behind 2-1 and the bases loaded, Girardi failed to manage.
Jacoby Ellsbury was on third base. Angel Berroa was positioned in short left field about 45 feet from third base where Ellsbury was.
Ellsbury is one of the fastest runners in all of baseball.
Andy Pettitte threw two pitches from the wind up and Ellsbury realized that, with no one near him at third and Pettitte not pitching from the stretch, he could get as big of a lead as he wanted.
On the third pitch, Ellsbury started walking down the line as Pettitte began his wind up. Ellsbury then broke for home and stole it to add another run for the Sox.
What was Girardi doing? Did he not know who was on third? Did he not realize that lefty Pettitte could not see Ellsbury as he went into his wind up?
Girardi failed to manage in this situation. ESPN reporters said that Boston had planned for just this situation. If Ellsbury got on third and Pettitte went to the wind up, then they had discussed him stealing home.
Sox Manager, Terry Francona said later that he did not call the steal.
But Girardi could have prevented it and instead he did nothing.
Girardi has yet to prove that he can manage the most storied franchise in all of sports.
He is in the spotlight and under the microscope and he has too many questions to answer and not much time left to find answers.