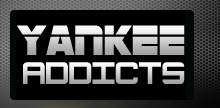 June 25, 2009 · Joseph DelGrippo · Jump to comments
Article Source: Bleacher Report - New York Yankees
Joe Girardi made several mistakes during last Sunday's game against the Florida Marlins.
First, with $161 million ace CC Sabathia telling him a half dozen times that he was fine, Girardi pulls CC after 1.2 innings due to some biceps fatigue. This was later diagnosed as biceps tendonitis, something that Sabathia said he has experienced during a bullpen session, but never during a game.
Girardi was likely thinking back to 2006 when, as manager of those same Marlins, he allowed Josh Johnson to continue pitching after an 82 minute rain delay*. Johnson ended up having Tommy John surgery in August 2007, and Girardi was blamed by many for that injury.
He was also blamed for the subsequent injury to Anibal Sanchez (labrum) plus overusing the other rookie starters on that squad—Ricky Nolasco and Scott Olsen. Dontrelle Willis hasn't been exactly the same after that season, either.
*I never understood the removal of pitchers when a rain delay has concluded. Don't the teams have hitting and throwing areas underneath the stands? Why can't a pitcher continue throwing during the delay? Let's say a game is delayed after five innings, you are leading 4-1 and your pitcher has thrown 70 pitches.
A nine-inning game takes about 3 hours, which is 30 minutes per inning or 15 minutes each half inning. Have your starter (who, remember, is pitching well with a 4-1 lead), throw about 15 fastballs at 75 percent every 20 minutes or so.
These throwing sessions wouldn't simulate an inning, but would keep a pitchers arm fresh. They would also keep your best pitcher in the game for a longer period of time.
You can never announce this, however, because according to MLB rules, once a pitcher is in the game, he is not allowed to keep loose during long innings.
Girardi pulled Sabathia because of General Joe's nervousness about getting his ace hurt, and yesterday was the big test when CC threw a bullpen. He threw all his pitches, and was popping the glove around 95 MPH.
Sabathia has had all the necessary treatments thus far, including electrical stimulation of the biceps.
There is no issue with CC having a sore arm.
No matter how CC felt yesterday in his 45 pitch bullpen, HE NEEDED TO PITCH FRIDAY NIGHT.
With the Yankees not playing well (especially their offense), and now five games back of the Red Sox, this Yankees team needed to have their top horse on the mound in the opening game of the series against their cross-town rival!
Not that the Yankees will not have an adequate replacement in Alfredo Aceves or Phil Hughes if CC is not allowed to pitch, but it is more important for Girardi to have Sabathia on the hill against the Mets.
Joe Girardi NEEDS Sabathia on the mound and he needs him to be the horse for which he was brought to New York.
During this time of the season, you can not worry about how pitchers will be in September. You need to win games now.
Supposedly already on the hot seat (which I think is ridiculous), Girardi is caught in the same situation that Washington Nationals manager, Manny Acta, was in last week.
Facing a firing, Acta needed to win games immediately and was caught between protecting his young starters with pitch counts or letting small leads get blown by the inept Nationals bullpen. A bullpen, mind you, which had begun to pitch pretty well up until Tuesday night's debacle against the Red Sox.
After his bullpen blew the first game against the Yankees, Acta chose to go deeper with his starter in game two. Game three saw his starter go 6.1 shutout innings before he called for help.
The Nats won both games and Acta has yet to be fired.
Will Girardi let Sabathia pitch on Friday, and if so, will Girardi let CC go deep?
There is already speculation that the recent bicep soreness is because Girardi let CC go 122 pitches in an April game, CC's third start of the season.
Will Girardi avoid getting the axe in New York and let Sabathia go 120+ pitches again?
It might not be his call, but if Girardi is allowed make the call, come this Friday, he needs to hitch his biggest horse to his own managerial wagon. He needs to let CC Sabathia be CC Sabathia, the same pitcher he was for the Milwaukee Brewers in the second half last season.
If Girardi babies his stud pitcher and worries about injury and how CC will be in September, the Yankees will continue this decline and General Joe might not be around for CC's final few starts of the season.