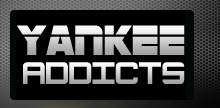 April 26, 2010 · Bronx Baseball Daily · Jump to comments
Article Source: Bleacher Report - New York Yankees
It's April 26, and the Yankees have dropped their first series of the season—not bad.
The problem is that for the second time in a week the team's manager, Joe Girardi, has made a couple of questionable moves that may have cost the Yankees the game.
First Questionable Move
The first one may be his insistence on using Marcus Thames as the starting left fielder when the Yankees face lefties. Thames has actually done a great job mashing lefties so far with a .500 average and a 1.523 OPS, but the problem is that his play in the field kind of negates his offensive production.
Second Questionable Move
That move is debatable though. What is not debatable is that Girardi mishandled the at-bat in which Angels first baseman Kendry Morales teed off on Damaso Marte.
What happened was that Girardi signaled for Marte to walk Morales. After one pitch, he called it off and nearly came out to replace Marte with reliever David Robertson. However, before he even made it out to the field he also abandoned that plan.
Now Marte was left out on the mound having almost walked Morales and then nearly being taken out. He then threw a pair of balls before he unleashed a meatball that Morales put into the seats.
The problem here is that as a manager, whatever decision you make, you need to make it with conviction. Girardi didn't do that though, and he left Marte with a 1-0 disadvantage and not really knowing what he's supposed to do. That's not a recipe for success, and it put the Yankees behind 8-4.
Thoughts
This team has a stacked lineup and a stacked rotation. One loss, or even two, is not going to kill their chances this year. It's possible the Yankees would have lost one or both of those games anyway, especially last night's thanks to Javier Vazquez's poor performance.
However, like I said in the last post criticizing Girardi, he really has to learn from these situations, because committing them in the playoffs could end up really costing them.
The toughest decision is going to be with Thames. Girardi has to decide if it's worth sacrificing Brett Gardner's defense for Thames' bat. This decision, especially in the playoffs, could have huge implications.
Read more New York Yankees news on BleacherReport.com