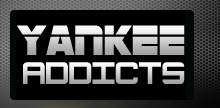 February 18, 2010 · Bronx Baseball Daily · Jump to comments
Article Source: Bleacher Report - New York Yankees
Yesterday was the official start of spring training as pitchers and catchers were due to report. Position players report next week and games will be underway shortly after that.
With the start of camp manager Joe Girardi spoke with reporters and laid out some spring training plans for his Yankees squad (thanks to Chad Jennings of the Journal News for the info).
On the lineup: "I think our No. 1 concern is ironing out our lineup," Girardi said. "When I say it's a concern, I'm not concerned that we don't have the players to do it, I'm concerned with where you place them."
Thoughts: The main spots up for grabs in the lineup are the No. 2 and No. 5 spots. Curtis Granderson and Nick Johnson are the favorites for the No. 2 spot, but the No. 5 spot is more up for grabs with Jorge Posada probably being the favorite.
On the rotation: The battle for the 5th spot doesn't start immediately. The players vying for the spot will probably have about a week to settle in to camp before Girardi starts judging them. "Tomorrow the message will be, look, we're just getting ready right now," Girardi said.
Whoever doesn't win the rotation spot will go to the bullpen. "I would envision that they go to the bullpen," Girardi said. He also said that spring training statistics aren't going to be the deciding factor.
Thoughts: Good to hear that the Yankees don't plan on using either Phil Hughes or Joba Chamberlain in the minors to keep them stretched out. Some people have advocated this as a way to keep them stretched out, but I think it makes the Yankees worse to have one of them in the minors and it doesn't help anybody if one of them were injured in the minors.
On who the centerfielder might be: "What is the best fit for each of the guys, not individually, but as a combination," Girardi said. It seems that part of the decision is going to be about who adapts better in left field.
Thoughts: The Yankees haven't used Gardner in left field at all in his time in the majors and I don't know how much he played there in the minors. It does seem reasonable to think that Granderson could be the better leftfielder. I'm glad the Yankees seem to be going into this with an open mind.
Jennings also reported that the Yankees are planning on another outing like last year's billiards outing although they won't necessarily be playing pool this time. Girardi has already vetoed bowling and paintball for fear of injuries.
Aside from how the bullpen is constructed and who the spare outfielders are, I think this gives us a pretty good idea of where the Yankees are right now.
Your thoughts?
Related Stories
Read more New York Yankees news on BleacherReport.com