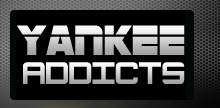 June 11, 2009 · Perry Arnold · Jump to comments
Article Source: Bleacher Report - New York Yankees
New York Yankees Manager Joe Girardi is making decisions that have to affect his players' confidence in themselves—and certainly their confidence in Girardi.
There are many examples.
The first one that comes to mind happened on Apr. 24 in Boston.
The Yankees were ahead in the game 4-2, and rookie reliever Jonathan Albaladejo was brought in to face the Sox.
Albaladejo got three outs without allowing a hit. Then when J.D. Drew came to the plate, Girardi allowed Albaladejo to throw the first pitch to Drew. It was a strike.
Then inexplicably, Girardi came to the mound and took his rookie out to bring in Mariano Rivera.
What did this move say to Albaladejo? "Sorry, kid, I have absolutely no confidence in letting you pitch to this guy."
Up to that point, Albaladejo had pitched very well, had a 2.70 ERA. He has not been the same since and was recently sent down to the minors.
Girardi started the season with rookie Brett Gardner in center field. But Gardner showed a complete inability to hit early in the year, and he was replaced by Melky Cabrera.
Cabrera has been the starting center fielder ever since—almost.
Despite the fact that Gardner has been given the starting job over Gardner, when Girardi decides to make late-game defensive replacements, Gardner is placed in center field and Cabrera is moved to right.
And in games when Girardi chooses to start Gardner, again Cabrera is moved from the position he won during the season.
Cabrera has played all three outfield positions.
What does Girardi's use of his starting center fielder say to Cabrera? "Okay, you won the starting job, but I still don't think you are as good as Gardy, so he is going to play center whenever I get the chance to use him."
On May 24 the Yankees were hosting the World Champion Philadelphia Phillies. Late in the game, second baseman, Robinson Cano, got a hit and made it to second base.
At that point Cano was hitting .313. Girardi decided to manipulate the situation and replace Cano with pinch runner, Ramiro Pena.
Pena scored the run that tied the game. But in extra innings, when Cano's place in the batting order came around, he was unavailable to hit.
Cano is not the fastest man on the team, but he is not slow. He is also experienced. Pena is a rookie who had never played above Double-A ball before this year.
What did Girardi's decision say to Cano? "I just don't feel comfortable in having you run the bases in this situation so I'm going to put Nino in for you here."
When both Yankee catchers, Jorge Posada and Jose Molina, went on the disabled list with leg injuries, Francisco Cervelli was called up from Double-A Trenton.
Cervelli was an instant shot of energy for the Yankees and they reeled off eight wins in the next 10 games, with Cervelli catching almost every game.
Cervelli won rave reviews from the pitchers who loved throwing to the kid. He proved he could call a good game and throw out runners.
Since Posada has returned from the DL on May 28, Cervelli has been stuck on the bench with almost no chance to play.
What does Girardi's decision to Cervelli? "It doesn't matter how well you played and I don't really care if the pitchers have more confidence in throwing to you than Posada, go rust on the bench until someone gets hurt again."
When starter Chien-Ming Wang proved totally ineffective it appeared that the Yankees created an injury to the hip abductor muscle in order to put the pitcher on the disabled list.
Phil Hughes was recalled from Triple A and pitched inconsistently, but sometimes brilliantly.
Last week, after Wang had worked out of the bullpen sporadically for three weeks, Girardi and other members of the Yankee "brain trust" decided to start Wang and to put Hughes in the bullpen.
Girardi allowed Hughes to sit in the bullpen for seven days with no use. Finally in Monday's night's final game against Tampa Bay, Girardi seemed to finally remember that the big right-hander was down in the pen.
Girardi brought Hughes in to pitch the seventh inning and he was lights out. Without any possible explanation Girardi did not call on Hughes to go back out in the eighth inning, calling on Phil Coke instead.
Before yesterday's game in Boston, Girardi was interviewed and said that if Wang got in early trouble, the Yankees would look to Hughes, and that Girardi could expect Hughes to throw up to 85 pitches if necessary.
But in the first two innings, when Wang was struggling with control, Girardi did not have Hughes up in the pen. Instead, he had David Robertson heating up as fast as possible.
Eventually Hughes was called into the game in the third inning with two out, and he pitched well for the three and two-thirds innings Girardi left him in the game. He did give up a two-run homer to Kevin Youkilis, but otherwise was very good.
But what must Girardi's vacillation say to the hard throwing kid? "Well, they told me I had to put you in the pen and yeah, I know you didn't get called for seven days and yeah, I know I said I would use you first if Wanger got in trouble, but then I had second thoughts and got David ready and well, gosh, Phil, I just don't know."
And then we have last night's starter, Chien-Ming Wang.
Wang has pitched very badly for most of his work this year.
His first three starts are now legendarily horrible. But he has always been a starter, had stretched himself out as a starter in the minors after his hip abductor "injury" and then was recalled to the Bronx—only to find himself in the bullpen.
After Girardi used him for three weeks from the pen, Wang was thrust into the starting rotation last Thursday against Texas. Putting him in then required Girardi to shuffle his entire starting rotation.
Last night Wang started for only the second time since being recalled and he was bad again. This time he went only 2.2 innings, gave up six hits and four earned runs and also three bases on balls, which hurt his performance as much as anything else.
Before the game, Girardi had talked about Wang, emphasizing the need to stretch him out some more and saying that he expected to get 80 to 90 pitches from Wang in this game.
But in the third inning he had two outs when the Red Sox's sometimes catcher, George Kottaras, came to the plate. At that point Wang had thrown 69 pitches, far fewer than Girardi had hoped for and an average of only 23 per inning.
Kottaras strode to the plate carrying a bat and a .204 average. He catches only when Tim Wakefield throws, primarily because Jason Varitek does not want to catch the knuckleball.
But as Kottaras came to the plate, Girardi was on his way to the mound. He took Wang out of the game with two outs and the weakest hitter on the Red Sox roster coming to the plate.
What did Girardi's move of taking Wang out at this point say to his pitcher? "Wang, I can't stand to see you throw one more ball. I don't care if Donald Duck was hitting, you ain't throwing no more. Get outta here."
On Saturday afternoon, Girardi went to the mound with Mariano Rivera throwing in relief. Coming to the plate for Tampa Bay was Evan Longoria, who has had a bad leg and was unable to play in the game. Longoria had sat on the bench for the entire game.
Girardi instructed future Hall of Famer, Rivera, to intentionally walk Longoria and pitch to B.J. Upton.
Rivera is the Yankees' closer. His mindset has to be that he can get anyone out. If he is afraid to pitch to any hitter, he has the wrong role on the team.
But Girardi made a special point of personally instructing Mo to walk the Rays' pinch hitter.
Girardi did not have pitching coach Dave Eiland signal to the catcher to pass Longoria. No.
Girardi went to the mound to personally tell Rivera that he had no confidence in his closer pitching to this guy who was coming in cold off the bench.
What did Girardi say to Rivera? "Yeah, I know Mo. They say you are the greatest closer in the game. And yeah, I know this guy hasn't played all day and probably can't run anything out if he hits the ball. But I just don't think you can get this guy out. Better walk him."
What did Girardi say to Hideki Matsui, his DH, when he refused to start Matsui in the first game in Boston on Tuesday? Girardi would rather have had Brett Gardner in the lineup against Josh Beckett than Matsui.
Girardi has no plan. Girardi has no concept of how his rash moves affect the minds of these players, some of them very young and still trying to develop confidence.
Girardi is frustrating to those watching this team. Girardi seems frustrated himself.
Girardi is overthinking, over-managing and over-complicating every aspect of this game.
But he has been around the game long enough, and has seen it played the right way for long enough during his time in New York as a player and coach under Joe Torre, that he at least should be sensitive to the mindless way he is playing games with his players.