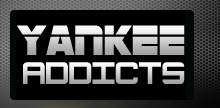 May 13, 2009 · Perry Arnold · Jump to comments
Article Source: Bleacher Report - New York Yankees
I got home from work yesterday and thought I had a migraine headache.
I turned on YES to see what Mike Francesca was up to, and I knew that the headache was only about to begin.
Francesca was literally laughing at the Yankees starting lineup.
He was laughing! Gardner, Pena, Cabrera, and Cash! "Are you kidding me?" Francesca asked.
I thought there had to be some mistake.
The Yankees were coming into the game after an off day.
They were facing the team with the best record in the American League, Toronto, which happened to be starting Doc Halladay, arguably the best pitcher in the league who would enter the game with a 6-1 record.
And Girardi has decided that he was going to sit Nick Swisher and start "Gardy" in the outfield.
Swisher has been slumping lately, sure.
But does anyone not residing in a rubber room truly think that the Yankee offense is better off with Gardner in the lineup than with Swisher hitting.
The team was already going to be weakened by the fact that shortstop, Derek Jeter, leadoff hitter in almost every game this year, was going to be sitting with a strained oblique muscle.
Rookie, Ramiro Pena was going to have to play for Jeter, and hit ninth.
But now Girardi was going to take another bat out of the lineup and sit Swisher and hit "Gardy" leadoff.
Kevin Cash was giving the assignment of catching A.J. Burnett.
Cash was acquired in the offseason from the Red Sox and was on the minor league disabled list just last week when both Jorge Posada and Jose Molina went down with leg injuries.
Since Molina went on the DL, Francisco Cervelli had caught the three games in Baltimore and had drawn rave reviews from the pitchers who threw to him and analysts.
But Girardi sat Cervelli after a day off and started Cash.
What that meant was that Cash, Pena and Gardner would follow each other against one of the best pitchers in baseball after the first inning.
Gardner was 0-for-4 and Cash was 0-for-3. Pena did get one of the Yankees' five hits.
But a Yankee lineup that was supposed to put fear in the minds of pitchers around the American League had a guy who finished the night hitting .214 as the leadoff hitter.
Batting third is the $160 million first baseman who is hitting under .200 and struck out twice last night looking. Mark Teixeira seems completely distracted at the plate, swinging at pitches he can't touch and letting perfect balls go by.
Alex Rodriguez is the cleanup hitter and was playing in only his fourth game after rehabbing from hip surgery. He obviously has not worked himself back into prime shape, despite hitting a three-run homer on the first ball thrown to him Friday night in Baltimore.
This is a very weak lineup and it is impossible to imagine what was in Girardi's mind in sitting Swisher for Gardner and putting Cash in the game.
On the defensive side, it has to be asked if Girardi knows who his center fielder is.
In recent games, Girardi has chosen to put Brett Gardner in as a defensive replacement for Nick Swisher late in games. But when he has done so, he has not stuck his favorite player, "Gardy" in right field.
Girardi must think "Gardy's" feelings would be hurt like the last kid chosen in a pick-up game on the sandlot field who is always put in right field.
Instead Girardi moves his center fielder, Melky Cabrera, who won the job after Gardner proved he could not hit, to right field and lets his pet play center.
Last night, the right fielder, Swisher, was benched. But did Gardner go into right? No, Cabrera was put in right field. There are arguments that this is a stronger outfield. Cabrera has a better arm which you need in right. Gardner is faster and can cover more ground in center.
But if Cabrera is your center fielder, for Pete's Sake, Joe, let him play center field. If "Gardy" is a sub, play him as a sub and let your starting center fielder play center.
Girardi has continued to amaze with his curious decisions. But last night took the cake. It is hard to imagine how Girardi can get any worse as the manager of the Yankees. It is also hard to imagine him remaining much longer if he doesn't realize what it takes to manage a big league team.
This is a guy who had absolutely no experience managing in the minors. He got "experience" after his playing days as bench coach under Joe Torre. And he managed one year with the Florida Marlins, where he was the National League Manager of the Year.
Yesterday, Mike Francesca talked about how Girardi had not found his "voice" as the Yankee manager.
Then Francesca changed it to say he had not found his "tone" as manager. What Francesca was trying to say was that he didn't know what he was supposed to be doing with this team.
By comparison, Francesca also talked about Cito Gaston, the Blue Jays Manager. He pointed out that Gaston believes in letting the players play, putting the same team on the field and getting out of their way.
Girardi will never understand this.
The only good thing is that I learned that I will probably never get a migraine at work again. Now that I know the real thing and that it is caused by Girardi's latest failed attempt to fiddle with the Yankee lineup, it will make staying at work a little easier.
Because I am sure not going to be in a hurry to get home early and hear the latest news about Girardi's gyrations with my team.