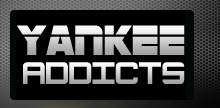 February 23, 2012 · Harold Friend · Jump to comments
Article Source: Bleacher Report - New York Yankees
Brian Cashman has finally confirmed what everyone suspected about the 2010 New York Yankees. Joe Girardi has also confirmed what everyone has suspected about Joe Girardi.
This past Sunday, the New York Yankees' general manager admitted that the 27-time World Series champions didn't try to beat out the Tampa Bay Rays for the 2010 AL Eastern Division title. The Yankees would be the Wild Card if they didn't finish first in the division.
Girardi started an inexperienced Ivan Nova in the next to last game of the season, and he followed that by giving Dustin Moseley the last start of the year. The Yankees lost both games, and the Rays won the division by a single game.
"I'm not taking away from Tampa Bay, but we didn't try to win the division," Cashman told reporters at the Yankees' spring facility in Tampa, Florida. "We tried to line ourselves up for the playoffs and that worked.
"I wouldn't want to say maybe it's just us, but when you're in a position to know you're going to go (to the playoffs) and it really doesn't matter which way you're going to go, at that point, and you start resting guys, lining them up, and the games in September aren't as meaningful as they needed to be."
Today, George A. King III wrote in the New York Post that Joe Girardi said the Yankees did not allow the Rays to win the division.
Girardi would rather be beaten than to have the integrity of the game questioned.
Joe, I guess you know that the Yankees went 3-8 in their last 11 games.
"I wanted to win the division. I had a guy with a broken toe (Mark Teixeira) and (Nick) Swisher had a knee (injury). We were banged up," Girardi said. "I didn't concede the division."
Joe, what do you call starting Nova and then Moseley?
Cashman and Girardi love having a second wild card. Don't they realize that if there had been a second wild card in 2010, it would have hurt the Yankees' chances of advancing in the playoffs because, if they rested best players, they would be faced with an elimination playoff game?
Read more New York Yankees news on BleacherReport.com