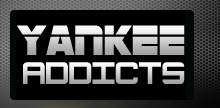 June 19, 2009 · Perry Arnold · Jump to comments
Article Source: Bleacher Report - New York Yankees
Joe Girardi is an absolutely horrible manager and the decisions he made in a crucial situation on Wednesday night prove it again.
The Yankees were playing the worst team in all of baseball, the Washington Nationals.
The Yankees were behind 3-2 in the bottom of the ninth inning.
Mark Teixeira got on base and Girardi sent fleet Brett Gardner in to run for Tex.
Gardner stole second and soon stole third when the Nats' catcher dropped the ball trying to transfer it from his glove to make the throw to third.
With Gardner perched on third and with only one out, Alex Rodriguez came to the plate.
A-Rod worked a walk and the Yankees had men on first and third with one out. This is where it got interesting for Girardi.
Cano worked the count to 2-2 and fouled off four more pitches.
At no time did Girardi order A-Rod to steal second.
Admittedly, A-Rod is not as fast as he has been in past years since he is just coming off arthroscopic hip surgery.
But Brett Gardner is one of the fastest men in the major leagues. In that situation, Girardi should have invited the Nats to try to throw A-Rod out at second.
Because as soon as Gardner saw the throw go down to second he could score the tying run.
But Girardi left A-Rod dangling on first until Cano hit into a game-ending double play.
Girardi was asked about his decision not to have A-Rod running and his answer was curious at best.
He said that if A-Rod had stolen second he felt the Nationals would have intentionally walked Cano to set up a double play with Jorge Posada coming to bat next.
This is just stupid for several reasons.
First of all, the Nats already had a double play set up as was proven when the double play occurred that ended the game.
But Girardi's decision is even more stupid because if he could have gotten A-Rod to second base he would then have had the winning run in scoring position with a very clutch hitter coming to the plate in Posada.
So if A-Rod gets thrown out trying to steal, Gardner scores the tying run and at the very worst you are going into extra innings.
If A-Rod is successful in the steal, which probably means the Nats did not throw through to second, you have the winning run in scoring position and you have eliminated the double play while Cano is batting.
Girardi continues to baffle those who watch the sport closely, and in the opinion of this one writer, it is past time for Yankee management to find a new field manager.