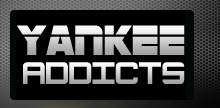 June 17, 2009 · Harold Friend · Jump to comments
Article Source: Bleacher Report - New York Yankees
Joe DiMaggio batted in at least 100 runs in each of his first seven seasons.
He didn't play from 1943-45 because he was helping to defeat the enemies of freedom.
When he returned in 1946, it took the 31 year-old DiMaggio time to regain the form he demonstrated when he had been younger.
Nine of 11 Seasons
After driving in 95 runs in 1946 and 97 in 1947, he drove in a career high 155 runs in 1948.
Injuries hampered DiMaggio in 1949, but in 1950, he had 122 RBIs, marking the ninth time in 11 seasons that he accomplished the feat.
Mickey's 100-RBI Seasons
Mickey Mantle batted in at least 100 runs for the first time in his fourth season, when he had 102 RBI in 1954.
In 1956, his Triple Crown season, Mickey batted in 130 runs, which was a career high.
Nineteen sixty one (128) and 1964 (111) were the other seasons in which he had at least 100 RBIs.
Joe Averaged More RBI Than Mickey
Joe DiMaggio averaged one RBI for every 4.4 at bats, one RBI for every 5.0 plate appearance and 118 RBI a season, but when using Baseball-Reference's adjusted 162 game average, he averaged 143 RBIs a season .
Mickey averaged one RBI for every 5.4 at bats, one RBI for every 6.6 plate appearances and 84 RBIs a season, but he averaged 102 RBI when adjusted for a 162-game season.
Team Runs
In DiMaggio's 13 seasons, the Yankees scored 11,301 runs, for an average of 869 runs a season.
Since Joe had 1,537 RBI, he batted in 13.3 percent of the runs the Yankees scored.
In Mickey's 18 seasons, the Yankees scored 13,032 runs, for an average of 724 runs a season.
Mickey had 1,509 RBI, which means he batted in 11.5 percent of the Yankees runs.
Home Runs
It is recognized that a hitter's RBI totals depend on his teammates, but that hitting a home run also produces at least one RBI.
Mickey averaged 36 home runs over a 162-game season, while DiMaggio averaged 34, which is an insignificant difference.
While DiMaggio's Yankees were better offensive teams than Mickey's Yankees, Joe DiMaggio was more effective than Mickey Mantle with respect to driving in runs.
Runs Scored
Scoring runs is also dependent on teammates, which makes the belief that the more often a batter gets on base, the more likely he is too score specious reasoning.
Joe DiMaggio scored 130 runs over a 162 game season, while Mickey scored 113 runs over a 162-game season, but it is much closer because DiMaggio's teams scored more than Mickey's and had stronger offenses, especially from 1936-1938, when Lou Gehrig was in the lineup.
Joe DiMaggio scored at least 100 runs in eight of his 13 seasons.
Mickey scored at least 100 runs in nine of his 18 seasons, but once again the disclaimer that Mickey missed significant parts of seasons due to injury.
On Base Average and Base Running
This leads to on base average. Mickey walked much more than DiMaggio, but he hit for a much lower average.
Mickey batted .298 with a .421 OBA, while DiMaggio batted .325 with a 398 OBA.
Mickey stole many more bases, which put him in scoring position, but statistics cannot reveal how many times DiMaggio, who was an excellent base runner, went from first to third on a hit, and how often the extra base resulted in a run scored.
Slugging
Mickey hit many more home runs than DiMaggio, but his slugging average was .557, compared to DiMaggio's .579.
DiMaggio had 389 doubles (36 a season) and 131 triples (12 a season) compared to Mickey's 344 doubles (23 a season) and 72 triples (5 a season).
It must be recognized that the right handed hitting DiMaggio hit many balls into the gap that went for triples or outs, while when Mickey batted left handed, he had a better chance of hitting a home run instead of a gapper.
Mickey also stopped at second many times because he was not willing to trade an extra base for another leg injury.
Isolated Power
Isolated Power (ISO) was created by Branch Rickey and statistician Allan Roth in the 1950s.
It is a measure of a hitter's raw power, in terms of extra bases per AB.
Isolated Power is calculated by subtracting a player's hits from his total bases and dividing by his at bats.
A player who has 30 hits (20 singles, 7 doubles, 1 triple and 2 home runs) in 100 at bats has a total average of 0.150 (45 total bases – 30 hits)/(100 at bats), which equals 15/100 or 0.150.
Joe DiMaggio's Isolated Power was .254. Mickey's was .259.
Despite hitting 175 more home runs, Mickey's edge in isolated power was minuscule.
Injures and Missed Seasons
Mickey Mantle fans invariably point to injuries as the reason he wasn't even greater. They are right.
But those fans must acknowledge that if Joe DiMaggio hadn't missed three seasons at the peak of his career, his lifetime totals would not be too different from Mickey's (with the exception of strikeouts and walks).
As great as Mickey was, he was no Joe DiMaggio—but he was sure close.
References
Mickey Mantle at Baseball-Reference
Joe DiMaggio at Baseball-Reference