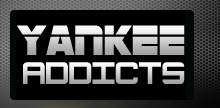 October 13, 2010 · Bronx Baseball Daily · Jump to comments
Article Source: Bleacher Report - New York Yankees
The Yankees made quick work of the Twins in the ALDS. In fact, they were so quick in dispatching the Twins that they didn't get a chance to use Joba Chamberlain at all.
Some people are making a big deal about this because they say it is proof that the Yankees have lost confidence in Joba. But according to pitching coach Dave Eiland, it had more to do with matchups than confidence.
Via the NY Post:
Asked if manager Joe Girardi had more trust in Kerry Wood and David Robertson than Joba Chamberlain, who didn't appear in the three games against the Twins, pitching coach Dave Eiland said that wasn't the case.

"It's matchups," Eiland said. "I said the other night to somebody Joba is going to play a big part in this before we're finished as are all the other guys down there.

"It's just a matchup. You take Minnesota for example. That was a team that hit sliders much better than they hit curveballs. David Robertson has one of the best curveballs in the game. That was a better matchup for him. If it was a team that did better hitting curveballs than sliders, then Joba would have been in. It's circumstances like that that dictate it."
If you look at FanGraphs' pitch values, this is mostly true. Both times Robertson was brought in during the ALCS, it was to face Delmon Young, who does hit the slider better than the curveball.
The thing is, though, there was one instance when D-Rob lost Young and stayed in to face Jim Thome. This is a situation where Joba probably matched up better, as he hits the curveball much better than the slider.
That's literally one batter, though. To say that the Yankees no longer trust Joba because they didn't pull Robertson for him against one batter is ridiculous.
Do the Yankees trust Kerry Wood more than Joba? Probably, but Wood is a veteran who has had a very strong run with the Yankees.
Since he's been here he's given almost no reason for Girardi not to trust him.
Do the Yankees trust D-Rob more than Joba? Probably not.
They are practically interchangeable, and are probably going to continue to go on matchups.
Related Stories
Read more New York Yankees news on BleacherReport.com