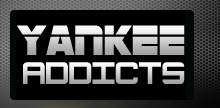 April 6, 2010 · Bronx Baseball Daily · Jump to comments
Article Source: Bleacher Report - New York Yankees
Joba Chamberlain didn't have a particularly good night Sunday night. He allowed two hits, a walk, and a run in 1.1 innings.
He certainly didn't implode, but he was far from dominant.
His fastball, as far as I could tell, never really got above 93 (assuming the YES gun was somewhat accurate), and control of his breaking pitches seemed to come and go.
Now, to be honest, this isn't really a huge deal. Chamberlain is still a very young pitcher, and it's still early in the season. It's hard to expect Joba to be sharp all the time.
However, last night's outing shows exactly why the whole starter versus reliever debate is flawed.
Joba is a young and inconsistent pitcher. He was dominant out of the bullpen in 2007 and was dominant for periods of time as a starter in 2008. Ever since his shoulder injury against the Rangers that year, however, he has only occasionally shown flashes of his potential.
Was that injury more serious than we were led to believe, or is this just the natural progression of a young pitcher? It seems that either is possible.
Either way, though, Chamberlain's effectiveness is not tied to his role. Sure, his numbers look a little better when relieving, but that is true for any pitcher.
I've heard many times people complaining about the Yankees' attempt to turn Joba into a starter, but it very well could be their attempt to turn him into a reliever that has hurt his development.
Joba had always been a starter—in college and in the minors—yet in 2007 he became a setup man because the Yankees felt he could help the big league club the most in that role. That was certainly true at the time, but really Joba probably should have made a few more starts and just been shut down for the year.
Could Chamberlain have avoided his arm problems and bouts with ineffectiveness if he had never tried relieving to begin with? Sure; relieving means fewer innings, but it requires more frequent pitching—something Chamberlain was not used to.
This is all speculation, of course, but the point is that Chamberlain is an inconsistent pitcher right now, no matter how the Yankees use him. Hopefully Joba will find that consistency—both in control and velocity—as he continues to mature.
Most Commented Posts
Read more New York Yankees news on BleacherReport.com