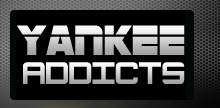 June 1, 2009 · Jordan Schwartz · Jump to comments
Article Source: Bleacher Report - New York Yankees
How many times does he have to prove you wrong?
For about the 13th time in his short career, Joba Chamberlain proved to all the detractors that he belongs in the Yankee rotation.
And he did it in possibly the most convincing fashion yet, with eight strong innings against the Cleveland Indians. He surrendered just six base runners and two runs, while striking out five.
With Chien-Ming Wang set to return and Phil Hughes improving, the pressure was on Joba to pitch well because someone's going to be left out of the five-man rotation. But who should it be? Let's take a look at how the five starters after ace C.C. Sabathia have pitched over their past 22 starts (Chamberlain's career total).
Joba Chamberlain 6-2 3.19 ERA
A.J. Burnett 10-3 3.75 ERA
Andy Pettitte 8-8 5.01 ERA
Phil Hughes 6-8 5.30 ERA
Chien-Ming Wang 10-6 5.47 ERA
In a poll I posted in one of my articles a week ago, 53.8 percent of respondents said Joba should be moved to the bullpen, while only 23.1 percent said Hughes or Wang should go.
I wonder what those totals will be now.
Here are the grades from New York's 5-2 victory over Cleveland on Monday night.
Joe Girardi, Manager: (A-) I don't understand sitting Johnny Damon against Jeremy Sowers when the left fielder is 5-for-9 in his career against the lefty. Damon's replacement in the 2-hole, Nick Swisher, was 0-2 with a walk against Sowers, but his presence in the lineup paid dividends against the Indians bullpen.
I loved Jeter attempting a sacrifice in the third inning with Brett Gardner on second and no one out. He reached on the bunt and the play led to the Yanks' first run when Swisher grounded into a double play.
I know it may be unpopular, but I agree with Ramiro Pena bunting with two strikes in the eighth. He had a runner at second and no one out and New York was trying to get another insurance run to third with less than two outs.
Pena struck out bunting foul, but I don't think that's Girardi's fault for keeping the sacrifice on; rather, Pena is to blame for not getting the bunt down.
Derek Jeter, SS: (A) The Captain was 2-3 with two walks and a run scored to extend his hitting streak to 15 games. He also made a couple of nice plays in the field as the Yankees set a major league record with their 18th consecutive errorless contest.
Nick Swisher, RF: (A) Swisher struggled against Sowers, but he picked it up once the relievers entered. The right fielder doubled twice, including a huge two-run shot to deep left in the seventh which gave the Yanks a 3-1 lead.
Mark Teixeira, 1B: (A) Teixeira went 1-3 with two walks and also made some nice defensive plays.
Alex Rodriguez, DH: (B) A-Rod struck out looking with the bases loaded in the sixth, but he made up for it with a two-run single in the seventh that put the game out of reach.
Jorge Posada, C: (D+) A horrible game at the plate for Posada, who left seven runners on base while going 0-4, but he did a great job behind the dish managing Chamberlain. One instance that stands out came in the bottom of third with a full count on Kelly Shoppach.
Before putting down a sign, the catcher motioned with his head for Chamberlain to shake off his first offering, making the hitter think Joba wanted to throw a fastball, but instead, the pitcher threw a slider and Shoppach struck out swinging to end the inning.
Robinson Cano, 2B: (F) Cano didn't make any outstanding defensive plays to get his grade up. He was 0-4, grounded into a double play, and left six men on base.
Melky Cabrera, LF: (D+) Cabrera was 0-3 with a walk.
Angel Berroa, 3B: (F) Berroa got the start at third base for some reason. He went 0-2 with a strikeout, dropping his average to .143 before being lifted for a pinch hitter in the seventh.
Brett Gardner, CF: (B+) For a small ball enthusiast like myself, it doesn't get much better than the run Gardner scored in the third. He walked, stole second, advanced to third on a bunt by Jeter and then scored on Swisher's double play. You don't need to get hits to score runs.
Hideki Matsui, PH: (C+) Godzilla pinch hit for Berroa in the seventh, drawing a walk before instantly leaving the game for a pinch runner who scored a run.
Ramiro Pena, PR-3B: (D) Pena scored a run but couldn't get that bunt down in the eighth.
Joba Chamberlain, SP: (A+) Joba finally answered the question of who would bridge the gap between himself and Mariano Rivera. Joba Chamberlain.
Besides pitching a gem, Joba made one of the defensive plays of the year in the fifth when he dove head first towards the third base line to catch Shoppach's bunt pop up. The pitcher than popped up and fired to second to double off Ryan Garko.
The Yankees are now 14-8 in his 22 career starts. He is a starter.
Mariano Rivera, RP: (A) Mo retired three batters without giving up three runs.
Yankees Overall Grade: (A) The Yanks somehow failed to score after loading the bases with no one out in the sixth, but Chamberlain held down the fort until the bats broke the game open in the seventh. A 5-2 road trip is a thing of beauty and I'll be at the Stadium Tuesday night to welcome the first place Bombers back home.
Jordan Schwartz is Bleacher Report's New York Yankees Community Leader. His book "Memoirs of the Unaccomplished Man" is available at amazon.com, barnesandnoble.com, and authorhouse.com.