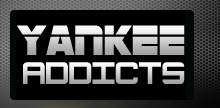 April 29, 2009 · Jordan Schwartz · Jump to comments
Article Source: Bleacher Report - New York Yankees
Joba Chamberlain helped send some of the Tigers fans to the exits early and a false fire alarm at Comerica Park nearly finished the job in the eighth inning.
The Yankees starter gave up just one run on three hits through seven, while walking three and striking out six to lead his team to an 8-6 victory over the Detroit Tigers Wednesday night.
Chamberlain, who many wanted moved to the bullpen after three mediocre starts this season, is now 4-1 with a 2.85 ERA in 16 career starts. The Yankees are 10-6 in those games.
Yeah, he's clearly not getting the job done in the rotation.
Chamberlain was aided by a huge seven-run fourth by the Bombers, but the pitcher got the momentum started by escaping a big jam in the bottom of the third.
The Nebraska boy issued all three of his walks in that frame, but stepped up when it mattered most, striking out Miguel Cabrera with the bases loaded. The Tigers' first baseman entered the at bat as the Majors' best active career hitter in those situations.
But that's what Joba does; he bends but doesn't break. His lifetime 1.36 WHIP as a starter is certainly too high, but Chamberlain's cool demeanor usually prevents him from giving up the big inning and that's why he's surrendered more than three earned runs only twice in 16 starts.
Here are the grades from the Yankees' series clinching victory over the Tigers.
Joe Girardi, Manager: (B+)
The fourth inning rally started when Girardi sent Hideki Matsui on a 3-2 pitch to Jorge Posada, who singled through the vacated hole at second to set up runners at the corners.
The manager then had Posada steal second when the Tigers failed to hold him on. This second and third, one out situation put pressure on the young Rick Porcello, who then gave up an opposite-field three-run homer to Nick Swisher.
I also liked that Girardi went to Mariano Rivera to close things out in the ninth when Jonathan Albaladejo was struggling.
Even though it wasn't a save situation, the skipper didn't bother taking any chances with David Robertson. As it turned out, Rivera gave up a three-run homer (because that's what he does lately), but the Yankees held on for the win.
Derek Jeter, SS: (D-)
Not a good night for the Captain, who went 0-5 and couldn't come up with a hard grounder early in the game. He did score a run, though.
Johnny Damon, LF: (A)
Damon was 2-4 with an RBI double, a walk and a run scored.
Mark Teixeira, 1B: (C-)
The April struggles continue for Teixeira. His 0-3 night makes him 1 for his last 16 and drops the first baseman's average to .197. At least he walked twice and scored a run.
Hideki Matsui, DH: (A+)
Godzilla broke the game open with a bases-clearing, two-out double in the fourth. He also walked three times and scored.
Robinson Cano, 2B: (D-)
Cano went 1-5 and left an astounding seven men on base.
Jorge Posada, C: (B)
Posada was 1-4 with a walk, a steal and a run scored. He also gunned down Miguel Cabrera during a crucial strike-em-out, throw-em-out double play to end the second.
Nick Swisher, RF: (A+)
After a rough weekend against the Red Sox, Swisher was moved down in the order and he has responded. His three-run bomb in the fourth gave the Yanks the lead and then he added a solo shot in the fifth for good measure.
Swisher already has seven homers on the year and he could be the team's MVP thus far. Go figure.
Melky Cabrera, CF-LF: (C-)
Cabrera was 1-5 with a run scored and made a nice running catch on Placido Polanco's sac fly in the third. It could've been much worse if Cabrera didn't come up with that ball.
Ramiro Pena, 3B-SS: (A-)
A solid contribution at the bottom of the order. Pena went 1-3 with a walk.
Angel Berroa, 3B: (INC)
Berroa played third in the ninth.
Brett Gardner, CF: (INC)
Gardner played center in the ninth. It looks like Cabrera has stolen his spot in the starting lineup as of now.
Joba Chamberlain, SP: (A-)
Joba still needs to improve his control and throw more first-pitch strikes, but Wednesday was definitely a step in the right direction.
Phil Coke, RP: (A)
Coke pitched a perfect ninth, striking out one.
Jonathan Albaladejo: RP: (F)
With a seven-run lead, Albaladejo couldn't find the strike zone, and then when he finally did, he got rocked to the tune of four runs in two-thirds of an inning.
Mariano Rivera, RP: (F)
Over his last 1.2 innings pitched, Rivera has given up three earned runs on five hits, including two homers.
Yankees Overall Grade: (B+)
This was looking like another A performance until the ninth when the bullpen made things scary.
Still, it was a huge series win to end a six-game road trip that didn't start too well in Boston.
Now the Yanks return home for a big four-game set with the nemesis Angels, starting with a game Thursday that I'll check out in person.
Jordan Schwartz is Bleacher Report's New York Yankees Community Leader. His book "Memoirs of the Unaccomplished Man" is available at amazon.com, barnesandnoble.com, and authorhouse.com.