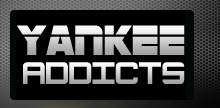 March 11, 2010 · Perry Arnold · Jump to comments
Article Source: Bleacher Report - New York Yankees
Joba Chamberlain first flashed on the major league scene in August 2007. He had been called up to the New York Yankees because they were floundering and needed bullpen help.
Chamberlain came in from the pen in 19 games in August and September 2007. He pitched in 24 innings. He gave up ONE earned run and had an ERA of 0.38. His ERA-plus was a stupid 1204. (There is no decimal point there.)
But the Yankees said that Joba was supposed to be a starting pitcher. So in 2008 all the talk was that they were going to limit his innings, but they were going to make him a starter.
So in April and May of 2008, Joba appeared in 20 games for the Yankees, none as a starter. In April, all in relief, Joba had a WHIP of 0.197. In May, all in relief, Joba had a WHIP of 1.297.
Then in June they made him a starter and began to build his innings up. He started five games in June and had a WHIP of 1.400 in 25 innings, or an average of only five innings per start.
In July Joba started six games and had a WHIP of 1.121 in 35.2 innings, or an average of just less than six innings per start.
Joba strained a shoulder ligament in August 2008 and missed most of that month. He pitched in only one game in August, that one as a starter.
In September 2008, Joba came back to pitch in 10 games, all in relief. His WHIP in September was 1.235.
Joba finished the 2008 season having pitched in 42 games, 12 as a starter. Over 100.1 innings he gave up 87 hits and only 29 earned runs. His ERA for the year was 2.60 with an ERA+ of 171.
Last season was supposed to be the break out year for Joba. He was set to be a starter from the beginning of the year. But he was still saddled with the Joba Rules, limiting his innings over the course of the season.
In April 2009 Joba threw 23 innings as a starter, had an ERA of 3.13 and a WHIP of 1.522. In May he threw 22.1 innings, had an ERA of 4.84 and a WHIP of 1.612. In June his innings increased to 35.2 and his ERA was 3.79 with a WHIP of 1.346.
July was his best month in '09 when he went 3-0 while pitching 29 innings in five starts. He had an ERA of 2.73 and a WHIP of 1.213.
But then the "Rules" were imposed and Joba was not the same. From August through September last year Joba went 2-4. He was only allowed to throw 23.2 innings in each month. His ERA in August was 8.22 with a WHIP of 2.000. In September his ERA was still 6.85 with a WHIP of 1.775.
But in the postseason, Joba was put back in the 'pen and he was a different pitcher than he had been starting in August and September.
In the ALDS against the Twins, Joba came in in relief in three games. He gave up no earned runs and had a WHIP of 1.200.
In the ALCS he did not fare as well, and was not effective against the Angels. He appeared in four games in that series and had an ERA of 5.40 and a WHIP of 3.000.
But in the World Series he was good again. He appeared in three games, pitched three innings, had an ERA of 3.00 and a WHIP of 1.000.
In today's New York Post Kevin Kernan wrote that Joba must pitch with emotion. And those who have watched Joba over the past three years remember that he is at his best when he is pumped.
Relief pitchers tend to be more emotional, more emphatic, more tempermental. They can afford to be because the spotlight is on them for such a short time.
Starting pitchers on the other hand have to pace themselves. They have to learn to work hitters and not be concerned about an occasional home run or walk. They understand that they are expected to throw 100 pitches, not 20, and that they can't put everything they have on each of those 100 pitches.
A starting pitcher who goes six innings and gives up three runs or fewer has thrown a "quality start."
A relief pitcher who gives up a run when the game is on the line will be remembered in a much different light than the starter who gave up a run in the second and two more in the fifth.
Maybe Kernan has hit on something without realizing it. Maybe Joba has to pitch with emotion, but maybe he cannot do that as a starter.
Joba Chamberlain's best performances have almost all been out of the bullpen. He has been good as a starter, but he has been brilliant as a short reliever. Why is there such a difference?
It can certainly be argued that Joba has simply never been turned loose as a starter and that is true. From April through July last season, he was 7-2 and he was still being pulled earlier in some games than other pitchers would have been.
His record really only plummeted last year when the stupid Rules were applied. No pitcher will perform well if he is treated as Joba was treated in the second half of last season.
Joba has been a starter in college and for his entire minor league career. Only his brilliant 2007 efforts from the pen implanted his role as a reliever in the minds of fans and Yankees brass. But it must at least be pondered that perhaps Joba is really not suited to be a starter emotionally.
Yankee fans need the Joba on fire. We want to see the fist pumps and the screams as he finishes off a hitter to squelch a rally. Perhaps we will only see that with Joba in relief.
Read more New York Yankees news on BleacherReport.com