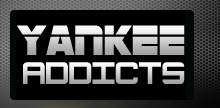 June 1, 2009 · Andrew Zercie · Jump to comments
Article Source: Bleacher Report - New York Yankees
The New York Yankees intended for Joba Chamberlain to be a starting pitcher from the beginning of his development in the minor leagues. The needs of the big club outweighed the proper career advancement that the Yankees wanted Joba to experience when, in 2007, he zipped through the minor leagues and arrived in The Bronx.
While Joba Chamberlain proved to be the most dynamic setup man the Yankees have had in years, the organization still viewed him as a starting pitcher.
The infamous "Joba Rules" were instituted in part because of how then-manager, Joe Torre used his relievers, but mostly the "Rules" were created to protect the Yankees' investment in Joba Chamberlain as a future ace.
Throughout the 2008 season, Chamberlain's future was a topic of heavy debate among fans, sports talk-radio hosts, sportswriters, scouts, players on other teams, and teammates as well.
Around this time last year, Chamberlain ascended to the rotation, and his tantalizing talent left us wanting more. Injuries, and a return to the bullpen once he got back from the disabled list, scuttled that a bit.
But the Yankees fought the temptation of simply keeping Joba chained to the primary setup role entering the 2009 season. To their credit, they stuck to their guns and asserted that he would be a starting pitcher with an innings limit.
Now, the Yankees are beginning to reap the rewards of their patience.
In their 5-2 win over the Cleveland Indians, capping a great road trip, Joba Chamberlain threw an efficient eight innings and induced 12 groundball outs. His 13.25 pitches per inning demonstrated the type of effective start that Joba Chamberlain is capable of at this early stage of his career as a major league starting pitcher.
Only 23 years old, Joba Chamberlain is by no means a finished product. His masterful performance against Cleveland was his first in nearly three weeks.
But what is clear after 53.1 innings this year is that Joba Chamberlain has proven, without a shadow of a doubt, that he has the ability to develop into a frontline starting pitcher.
As with many young starters, Chamberlain needs to improve his consistency, his command, and his situational pitching skills.
However, the debate is dead.
Joba Rules as a member of the rotation for now and the foreseeable future.