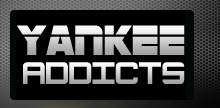 April 30, 2009 · Perry Arnold · Jump to comments
Article Source: Bleacher Report - New York Yankees
Joba Chamberlain got his first win of the young baseball season last night in the rubber match of a three-game set in Detroit.
Chamberlain pitched seven innings, giving up only three hits and one earned run. He struck out six, but he also walked three and looked shaky through the third inning.
After the game Chamberlain said that early in the game he was trying to be too precise but that later he felt as though he was back in the zone.
Chamberlain loaded the bases in the third inning after Detroit had pushed across the first run in the game.
Thankfully, he struck out cleanup hitter Miguel Cabrera on a nasty curve to end the inning without further damage.
After his teammates staked him to a 7-1 lead with an offensive outbreak in the top of the fourth, Chamberlain seemed to be a different pitcher.
He took the mound for the bottom of the fourth and seemed to work faster and with more confidence.
This looked more like the Chamberlain who brought so much excitement to Yankee fans when he first appeared as a relief pitcher late in the 2007 season.
He was more aggressive, went after hitters and even vigorously shook off catcher Jorge Posada and looked certain of what he wanted to throw. For a young pitcher this was a very good sign.
He was dominant for his final four innings, mixing fastballs that ranged from 92 miles per hour to 96 with sharp breaking curve balls that left Tiger hitters off balance.
This was by far Chamberlain's best outing of the season, although he has not pitched badly in his other starts.
With the help of numerous double play balls he kept the Yankees in the game against Boston last Friday night, giving up only one earned run and leaving the game in the sixth with the score tied 2-2.
He finished the game with an ERA of 3.13 in his four starts this season.
The Yankees counted on big performances from their top three starters, C.C. Sabathia, Chien Ming-Wang and A.J. Burnett.
But so far Sabathia has performed much worse than expected. Wang had three horrible outings and is now on the disabled list and working at the minor league center in Tampa.
Burnett has had three very good starts and one disappointing start when he let a six-run lead get away in Boston.
If Chamberlain has truly found his old zone, the Yankees have to be pleased.