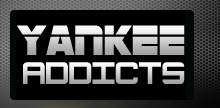 February 16, 2010 · Bronx Baseball Daily · Jump to comments
Article Source: Bleacher Report - New York Yankees
Young arms are becoming a more and more precious commodity in baseball, and the Yankees, with Joba Chamberlain and Phil Hughes, have two of the better ones in baseball.
Protecting those arms has become paramount. That's why the Yankees enacted the "Joba Rules" last year, and in 2010 we may even see the Phil-osophy. It's about keeping Joba and Hughes healthy and out on the mound.
Last year the Yankees received a fair amount of criticism for not letting Joba just pitch and were blamed for his poor second half. But the team won a World Series, and he's still healthy and primed for a strong 2010 season.
Or is he?
Tom Verducci of Sports Illustrated came up with something called the Verducci Effect a couple of years ago. It's a phenomenon that affects young pitchers who threw many more innings than their previous career high and flags them as injury risks the following year:
The only task harder than a breakthrough season is trying to do it again. Breakdowns are almost inevitable in pitching, but difficult to see coming. The best we know is that the two factors that most elevate risk of injury are overuse and poor mechanics, which often are interconnected.
More than a decade ago, with the help of then-Oakland pitching coach Rick Peterson, I began tracking one element of overuse which seemed entirely avoidable: working young pitchers too much too soon. Pitchers not yet fully conditioned and physically matured were at risk if clubs asked them to pitch far more innings than they did the previous season—like asking a 10K runner to crank out a marathon. The task wasn't impossible, but the after-effects were debilitating. I defined an at-risk pitcher as any 25-and-under pitcher who increased his innings log by more than 30 in a year in which he pitched in the big leagues. Each year the breakdown rate of such red-flagged pitchers—either by injury or drop in performance—was staggering.
I called the trend the Year After Effect, though it caught on in some places as the Verducci Effect. As I was tracking this trend, the industry already was responding to the breakdown in young pitchers. The Yankees instituted the Joba Rules. The Orioles shut down pitchers late in the year. Teams set "target innings" for their young pitchers before camp even began. Clubs sent underworked starters to the Arizona Fall League to build their arms to better withstand regular work the next year.
This is the reason for the "Joba Rules," but despite the fact that the Yankees had, at times, severe restrictions on Joba, he has landed himself on Verducci's at-risk list. The reason is because in 2008 the Yankees started Joba off as a reliever before making him a starter, and then when he was injured he was moved back to the bullpen. Reaching only 100.1 innings in 2008, it was pretty much a wasted season.
Then in 2009, the Yankees got smarter and started Joba off in the rotation. That way they could make sure he reached his innings goal that he wanted. A problem occurred, though, when Chien-Ming Wang couldn't stick in the rotation. So instead of Joba as the fifth starter, there was more importance placed on his starts, and even though the Yankees tried very hard to limit his innings, he still made a significant jump over the 2008 season.
This could be a reason the Yankees might want to use Hughes in the rotation over Joba. A year out of the rotation might not be the worst thing for his arm, shoulder, and elbow. He then would be fresh to join the rotation in 2011 when he could go as high as 200 innings before making Verducci's list again.
Related Stories
Read more New York Yankees news on BleacherReport.com