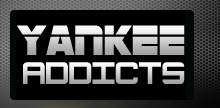 February 11, 2010 · Bronx Baseball Daily · Jump to comments
Article Source: Bleacher Report - New York Yankees
Buried at the bottom of an Associated Press article about Phil Hughes battling for the final rotation spot was this little piece of information:
"Jesus Montero , one of the Yankees' top prospects, is working out at first base."
Montero's defensive issues behind the plate are well noted, but so far the Yankees have not given up on him there. So does this signal a change in plans? Probably not.
I still believe that he'll be given a fair chance to stick as a catcher, but this is just about options. It remains unlikely that the Yankees will deal him, but if they do, this only increases his value.
It doesn't really do much for the Yankees in 2010, because even if he was called up Mark Teixeira and Nick Johnson have the job taken care of. What it does is sets up a pretty good rotating-DH situation next season.
See, Johnson might stand in his way in 2010, but he only has a one-year contract. So next year the Yankees could use Montero as a first baseman for about 50 games. They could also use him to backup Jorge Posada for at least 50 games and then DH for the final 50 or so other days.
That would not only keep two important bats fresh, Teixeira and Posada, but it would also let the Yankees see Montero in the field enough to determine what their long-term plan for him will be. At the same time, if he is a total disaster at one or either, he'll only be relied upon for 50 games and will not be able to do a ton of damage.
A roving DH was something the Yankees talked about doing this season, but ultimately abandoned the idea after Damon priced himself out of the Bronx. It also might be part of the reason they jumped on Johnson after they found out he'd be willing to accept a one-year deal.
Heck, it might be possible for the Yankees to get a decent trade chip out of Johnson in this. If his option for next season is exercised they could set up a sign and trade ala Gary Sheffield. Although admittedly, if Johnson realizes this there is little reason for him to agree to the option.
So where do you stand? Is this the Yankees way of signaling they're giving up on him behind the plate? Preparing to trade him? Or just leaving themselves with options?
Related Stories
Read more New York Yankees news on BleacherReport.com