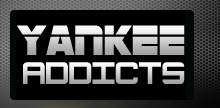 April 1, 2010 · Joseph DelGrippo · Jump to comments
Article Source: Bleacher Report - New York Yankees
I read the latest scouting report on Jesus Montero's defensive skills. It might be the first decently positive report on his defensive talent—but the secondary reports by bloggers mostly reported the negative.
I bet those guys will be all over the Tiger Woods interview next week.
The biggest knock on Montero is that his big 6'4″, 225-pound body will not allow him to catch at the major league level. The immense size Montero projects will cause slow footwork, leading to incorrect throwing mechanics—leading to runners stealing bases at will.
While catching for High-A Tampa last season, Montero threw out 13 percent of base runners. But when his major league bat prompted a promotion to Double-A Trenton, his caught-stealing percentage improved to 32 percent. He improved his transfers—plus pitchers at the Double-A level hold runners better than they do in High-A ball.
In 2009, a total of 86 runners stole a base off Montero. His counterpart in Tampa, Austin Romine, split duties with him—and Romine took over full-time catching duties after the promotion.
Overall, in 2009, Romine threw out 30 percent of runners, allowing 87 stolen bases. Romine is widely considered the better defensive catcher, but he allowed one more stolen base last season than Montero did.
I know the catching position is more than just trying to catch runners attempting to steal—but in one area in which Montero was supposed to be hampered by his size, he is showing improvement.
In 2008, at Low-A Charleston—where both shared the catching duties—Montero threw out 25 percent of runners, while Romine cut down only 20 percent. With better CS numbers for Montero at two levels, why is Romine considered the better defensive catching prospect?
Is it due to Montero's projections in size? It can't be because of his desire to improve, as Montero has shown his willingness and the ability to get better.
Last year's American League MVP was a catcher: Joe Mauer. He didn't win the award for his defense, as he threw out 26 percent of runners attempting to steal against him.
Mauer also had three errors and allowed nine passed balls. His CS percentage was below average for the AL, and the nine PB's were second-most in the league—and he missed the first month of the season.
Mauer stands 6'5″ and 230 pounds—bigger than Montero—but Mauer isn't considered too big or nonathletic for the position.
As a Yankee fan, would you trade those below-average defensive numbers shown above for really good offensive production? I am not talking Montero putting up numbers like Mauer's 2009 season—at least not in the first couple years in the majors.
I am talking maybe .293/.382/.426/.808 with 27 doubles, seven home runs, and 60 RBI in about 450 PA. Would you take those numbers for a young catcher?
Well, those were Mauer's numbers in 2007. Montero has averaged better than those numbers his two full seasons in pro ball.
Before Mauer hit 28 home runs last season, the most he ever hit in any of his four previous full seasons was 13—and that was the only season he hit double-digit home runs or had a slugging average over .500 (barely at .507).
Mauer was only a high-average, low-power guy before 2009. He has grown into his offense, but his CS percentage has declined during the last three seasons.
The phenom Matt Wieters is also a big catcher, standing at 6'5" and 230 pounds. He threw out 24 percent of all runners last year, and he was just under 40 percent at three levels in the minors.
Again, a big catcher with below-average CS figures, he had five errors and three passed balls in 86 games behind the plate. But Wieters hit .288/.340/.412/.753 with nine home runs and 43 RBI.
I guarantee that Montero can put up those offensive numbers in the same 385 plate appearances that Wieters had.
Montero is all about offense right now, but he appears to be growing into his defense. The most recent scouting report I referenced in the first paragraph said, "Until he's firmly entrenched in the big leagues, there will continue to be questions about Jesus Montero's ability behind the plate.…footwork, however, is definitely still an issue. He tends to open up on his throws to second, and he needs to improve on shifting to his backhand side to block pitches…he'll always need to put in extra work defensively ."
Those attributes that Montero needs to work on are all facets that regular reps will improve. Proper footwork and keeping the front shoulder closed on throws are items that can be easily fixed. But unlike a pitcher who will get better by actually pitching in a game, a catcher will improve more so by constant practice with a good coach.
And who might be the best catching coach in all of baseball? Tony Pena, a former MLB manager who is now on Joe Girardi's coaching staff. Pena and Francisco Cervelli—like Montero, a Venezuelan native—would be working with Montero every day before games on the footwork and throwing mechanics.
Cervelli is an extremely positive, helpful person. Last season, when Cervelli was doing rehab in the Gulf Coast League, he would often tutor J.R. Murphy on proper catching mechanics.
That is why Montero needs to be in the major leagues as soon as his bat is needed—to learn the catching craft every day from the best teachers at the top level. He will not get the necessary training at Triple-A—even if the hitting coach, Butch Wynegar, is a former major league catcher.
Montero will get his at-bats in the majors—he is that good. Nobody questions that aspect of his game.
The Yankees have pretty much decided that in 2010, Marcus Thames will be the right- handed power bat off the bench. And Thames is likely to get a few starts every couple of weeks against tough left-handed pitching. He might spell Nick Johnson at DH or could— Ugh!—play left field in place of Brett Gardner.
While Thames has recently hit a few home runs late in spring and has good splits against lefties during his career, I do not believe he will carry this recent hot hitting into the regular season.
Therefore, because the Yankees want some value out of the $900,000 that Thames is due when he makes the Opening Day roster, his opportunity will continue into late May or early June. When his struggles continue two months into the season, he will be released.
And Montero will have been tearing up the International League by that time. There will be no sane reason not to promote him to the major leagues as that right-handed bat— and emergency catcher, too. If Jorge Vazquez is hitting the ball at Scranton, then he might be an option if Thames were the only issue.
But potential injuries are an issue, too.
The knee injury to Daniel Murphy of the New York Mets—and the pelting to the elbow that Mark Teixeira suffered—show how quickly things can change for a baseball team. An injury can occur while running the bases (Murphy and Chien-Ming Wang) or in any of the quick movements the game demands.
The Yankees are an aging team that withstood the injury bug last season, but are they a Nick Johnson pulled muscle or a Teixeira beaning away from drastically altering their well-laid plans?
Johnson has been injured throughout his career, and there is no reason to believe that he will stay healthy all season. I hope he does, but the odds are against it happening.
And Cervelli now has a tight hamstring—an injury which is really tough for a catcher. With Jorge Posada only projected to catch 110 or so games, the thoughts of Mike Rivera actually having significant time behind the plate would scare the hell out of any Yankee fan and have us wishing for the days of Kevin Cash.
But they wouldn't need Rivera or even Cash back. The Yankees starting catcher at Triple-A will be OK.
If any injury occurs where the Yankees need a bat—but especially an injury to a catcher—I would roll the dice with Montero and take a chance.
Don't worry about any arbitration eligibility crap about the team maybe saving a year's contract. That is such a bunch of garbage.
If an organization has a stud player like Montero, Strasburg, Jason Heyward, or anybody of that talent, then you bring him up to the majors when you need him. A team would want to sign that type of talent long-term, anyway—like John Hart did with the Cleveland Indians in the early to mid-1990's.
Like Tampa did with Evan Longoria and Colorado did with Troy Tulowitzki. The Yankees have done this, too, when they bought out arbitration years with Robinson Cano.
Even if Montero does become the Yankees' full-time catcher in two to three years, I do not believe Montero will be a full-time catcher long-term—not because of defensive inability, but because the Yankees have too many good catching prospects in their system.
I can see a scenario in which the Yankees begin to use two full-time catchers to give their legs a break—similar to how NFL teams are using two and three lead-type running backs during the course of a game.
And all those young catching prospects will not be catchers for the Yankees. How many spots can catchers take up on the roster? If he continues to hit well, Murphy will probably be converted to outfield, and one of the others (Romine, Gary Sanchez, or Kyle Higashioka) will eventually be traded for another piece of the major league puzzle.
And if any of those catchers can play other positions, then they become more important—and the entire team becomes more versatile.
Montero's defense is not that bad, and it appears to be improving. He is a hard worker— plus, he will always get the best instruction from the major league tandem of Pena and Cervelli.
It has also been proven by two current catchers, Mauer and Wieters, that big guys can play behind the plate, have below-average defense and still be productive.
Montero's bat is very lethal, and if needed in the majors this season, it needs to be brought up to the majors—good defense or not, and arbitration years be damned.
Read more New York Yankees news on BleacherReport.com