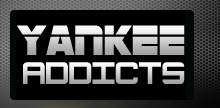 September 23, 2011 · Rick Weiner · Jump to comments
Article Source: Bleacher Report - New York Yankees
In 1998, 26-year-old RF Shane Spencer joined the Yankees' big club on September 1 and proceeded to hit .421 with eight home runs and 21 RBI, including three grand slams, a record for rookies that still stands today. Granted, Spencer had seen action with the club prior to the rosters expanding (.290 average in 29 at bats), but for all intents and purposes, he was a September call-up.
In the playoffs, Spencer cooled off a bit but was still a valuable piece of the Yankees' puzzle, hitting a combined .263 with two home runs and five RBI over three playoff rounds, including the World Series.
Fast forward 13 years, and the Yankees find themselves with 21-year-old Jesus Montero making a case for inclusion on the Yankees' postseason roster.
After the jump, here are five reasons why the Yankees' über-prospect could be a major factor in October, and we could very well see more signs regarding the messiah floating around Yankee Stadium next week.