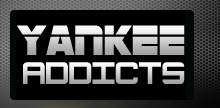 March 8, 2010 · Bronx Baseball Daily · Jump to comments
Article Source: Bleacher Report - New York Yankees
Nick Johnson returned to the Yankees lineup today as the DH and went 0-for-2 with a walk and told reporters after the game that "Things feel fine. No grabbing. No nothing. I loosened up before. Felt nothing."
That's good news for the Yankees, who no doubt cringed when they heard that he tweaked his back last week.
It might not have been a big deal, but it was a painful reminder that Johnson has a brutal injury history . People, myself included, even said that Yankees GM Brian Cashman probably questioned himself about passing on Johnny Damon so cavalierly, even if it was just for a second.
It seemed like a minor injury at the time and there should be little doubt that he is misleading the team about the extent of the injury, but it does raise the question—what do the Yankees do if Johnson is hurt and can't play?
Could the answer be to sign Jermaine Dye ? Maybe.
Dye is still a free agent despite having a 103 OPS+ last season and a 112 OPS+ over the past three because of his insistence to play in the outfield and a demand for too much money.
There were brief rumors that the Yankees were interested in him this offseason, but those were ditched when they realized that Dye had clearly overvalued himself (after all, the Yankees were already dealing with Damon, who had a perverted idea of his own self-worth).
Now that the preseason has started and Dye's still without a job, it could be a different story. If he's not leaning toward retirement already, he's probably willing to accept just about any serious offer made to him, and he's in no position to demand playing time in the outfield.
Obviously Dye is not as good as Johnson, which would be the reason why the Yankees signed one over the other, but if he remains unsigned and Johnson does suffer another injury, he might be a better choice than the status quo. Which would be using Randy Winn or Marcus Thames as the DH or rushing Jesus Montero to the big leagues.
My guess is that right now the Yankees' interest in Dye is non-existent, but if Johnson lands himself on the DL their interest could rise—and fast. It's at least something to keep an eye on.
Related Stories
Read more New York Yankees news on BleacherReport.com