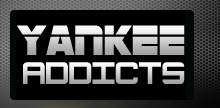 March 9, 2010 · Dan Hanzus · Jump to comments
Article Source: Bleacher Report - New York Yankees
Javier Vazquez is the luckiest man in baseball right now, and he probably doesn't even know it.
Imagine a World Series where Bad A.J. shows up instead of Good A.J. in Game Two, or Johnny Damon is thrown out trying to take that extra base in Game Five, or Hideki Matsui rides the pine with a bum knee in Game Six.
Had the Baseball Gods seen things differently, the Yankees may have entered a new decade riding the same ghost train that departed the Bronx in October 2004.
While Vazquez wasn't the conductor of that grim locomotive six years ago, it's hard to argue he wasn't a main member of the crew. It was Vazquez whose first pitch essentially finished off the Yankees on 10/20, a meatball that Damon (the Homeless Jesus version) lifted into the right field seats for a backbreaking grand slam.
The pitch set in motion a chain of events that led to the Yankees foolishly giving up on the then 28-year-old right-hander. (See: Move, Panic ) He was shipped off as part of the Randy Johnson deal, assumedly never to be seen again.
Now he's back, asked to be the No. 4 starter on a loaded Yankees team coming off a World Series title. I doubt Vazquez thinks about, or even realizes, how his return would be different had the Yankees still been shackled to the '04 ALCS.
Luckily, the events of last fall finally moved the franchise out of that valley. Vazquez will have to endure some beat writer copy about Game Seven before his first start against the Red Sox, but that will likely be it.
Vazquez, like the Yankees, begins 2010 with a blank slate.
The trade for Vazquez was undoubtedly Brian Cashman's finest move of the offseason. Due to an absurd postseason schedule loaded with off days, the Yankees were able to navigate through three rounds of the '09 playoffs without a No. 4 starter. They got away with it, but it was clear that more depth was necessary moving forward.
Enter Vazquez. Now 33, he's coming off arguably the best season of his career. The right-hander went 15-10 with a 2.87 ERA for the Braves in '09, striking out 238 in 219.1 innings. Those are ace numbers from a guy the Yankees will ask to shoulder far less weight than in 2004.
It'd be unfair to ask Vazquez to match his statistical production of a year ago. Pitching at Turner Field in the offensively inferior NL East, Vazquez was a big fish in a small pond. How he adjusts in the "AL Beast" will be a major subplot of the Yankees' season.
Vazquez made his spring training debut on Monday against the Phillies, striking out four over two strong innings. The sole damage came on a home run—a first-pitch home run—by Jimmy Rollins.
It was impossible to block out the déjà vu of the occurrence. But Vazquez and the Yankees have moved on from 2004. The scar is still there, but the pain has begun to fade from memory.
Dan Hanzus writes the Yankees blog River & Sunset and can be reached via e-mail at dhanzus@gmail.com. Follow Dan on Twitter at danhanzus .
Read more New York Yankees news on BleacherReport.com