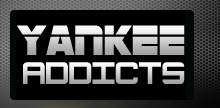 November 28, 2010 · Adam Bernacchio · Jump to comments
Article Source: Bleacher Report - New York Yankees
I love when players and agents use their degrees from Common Sense University. It's not often these degrees are used, so when they are it brings a smile to my face.
After a couple of failed trips in the American League, it was pretty clear that RHP Javier Vazquez belonged in the National League. For what ever reason, when Vazquez pitches in the AL, he turns into the ghost of Daniel Cabrera.
So when it was announced on Sunday that Vazquez signed with the Florida Marlins, I thought, here's a guy who used his degree from Common Sense University. Regardless of what happens during the regular season, this is a good initial signing by the Florida Marlins.
The Marlins signed Vazquez to a one-year, $seven million contract according to Ken Rosenthal of FOXSports.com. The deal includes a no-trade clause and the Marlins can't offer him arbitration after the 2011 season.
As we all know, Vazquez was a disaster last season with the New York Yankees. He had a 5.32 ERA and towards the end of the year, he was a complete non-factor in the Yankees' playoff push.
The Marlins are hoping that a return to the NL revitalizes Vazquez and he can enjoy some success again. They would love for him to return to his 2009 Atlanta Braves form.
Take a look at Vazquez's career splits in the AL and NL:
As you can see, not only did I use his new Marlin colors to illustrate the difference in Vazquez's performance in the AL and NL, but he is better across the board in the NL.
I don't think Vazquez will be as good as he was in 2009 with the Braves (2.87 ERA, 1.03 WHIP, 9.8 K/9) and I don't think he will be as bad as he was with the Yankees last season. I think he will fall somewhere in between.
Somewhere in between means an ERA in the high-three's, 2.5 BB's/9, and about 7.8 K's/9 in 190–200 innings pitched. That's not a bad season by anyone's standards.
Vazquez should slide in nicely in the No. 3 or 4 spot in the rotation behind Josh Johnson, Ricky Nolasco and Anibal Sanchez. Chris Volstad will round out the very deep rotation for the Marlins.
Vazquez joins John Buck, Ryan Webb, Omar Infante, Mike Dunn and Edward Mujica as significant pieces the Marlins have added this offseason. Despite their flurry of moves, I still think the Marlins are a third place team in the NL East. They are still a very weak defensive team.
You can follow The Ghost of Moonlight Graham on Twitter @ theghostofmlg
Read more New York Yankees news on BleacherReport.com