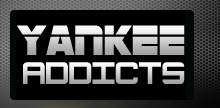 April 19, 2010 · Bronx Baseball Daily · Jump to comments
Article Source: Bleacher Report - New York Yankees
The Yankees have been doing so well lately, but no matter how good they play there is still going to be a small faction of fans that is just never going to be happy. It's sad in a way, especially when these fans have latched on to Javier Vazquez and are looking for blood.
The reality of the situation is that Vazquez will settle down and pitch well eventually, but in the meantime he has had back-to-back rough outings. That could come to an end soon, though, because he has apparently pinpointed a mechanical issue that has been troubling him.
Vazquez came out of his Saturday bullpen session concentrating on staying back and in rhythm on the mound and not getting ahead of himself during his delivery.

"In the game, you get the adrenaline going and start rushing a bit," Vazquez said. "It's easily correctable."

When Vazquez gets too quick with his delivery, his fastball has a tendency to both tail a little out of his hand and straighten out in the strike zone. That has led to two disappointing outings in his return to pinstripes. Vazquez is 0-2 with a 9.82 ERA, reminding fans more of his late-season swoon in 2004 with the Bombers than of his banner season in Atlanta last year. He was booed as early as the second inning in his home debut Wednesday.
Thoughts
These types of stories always come out when good pitchers are going through a bad stretch so I don't want to read too much into this. Vazquez is clearly going through a tough stretch right now, but he will turn it around. His last start wasn't really that bad so there has already been improvement. If he did recognize a bad habit in his mechanics and can work on it this week then we might see a strong start from Vazquez.
If that happens and all five of the Yankees starters get rolling then this Yankees team is going to go from great to unbelievable. Unfortunately that might mean those pessimistic fans could turn their venom on every hitter who goes 0-fer. I can see it now: "Sure Nick Johnson reached base four times, but he still went 0-for-2, what a bum."
Related Stories
Read more New York Yankees news on BleacherReport.com