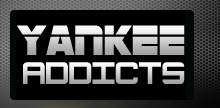 February 27, 2010 · Bronx Baseball Daily · Jump to comments
Article Source: Bleacher Report - New York Yankees
In an article about the Yankees outfield depth beyond their starters , I made the assumption that Marcus Thames was going to make the team and made it seem like the only way Jamie Hoffmann would stick with the team is if the Yankees worked out a trade with the Dodgers to keep the Rule 5 pick.
I shouldn't have done that because while Thames might be the favorite, the Yankees didn't trade former setup-man Brian Bruney for nothing and Hoffmann still has a shot at sticking in the Bronx. It seems one of the biggest battles in camp is going to come down between Hoffmann and Thames and Hoffmann's status is not going to effect the battle one way or another according to manager Joe Girardi.
"Maybe in some other camps, it might work one way or another, but here we're going to take what we feel gives us the best team," he said .
Also thrown into the mix yesterday is the little tidbit that, via Chad Jennings of the Journal News , that Thames has an opt-out clause in his contract. If he does not make the team out of spring training he has the option to become a free agent.
This means that the loser of the battle between Hoffmann and Thames is likely out of the organization completely. There is a chance that the Yankees could work out a deal with the Dodgers to keep Hoffmann, but there is little chance that Thames agrees to a minor league assignment, it's possible, but highly unlikely.
Related Stories
Read more New York Yankees news on BleacherReport.com