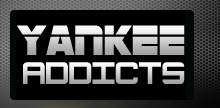 April 27, 2009 · Nick Poust · Jump to comments
Article Source: Bleacher Report - New York Yankees
New York Yankees starting pitcher Andy Pettitte wasn't expecting it. Nor was catcher Jorge Posada, his infielders, outfielders, bench players, or coaches. Only the Boston Red Sox speedy center fielder, Jacoby Ellsbury, knew what was going to happen.
Pettite's counterpart, Justin Masterson, the Red Sox' right-handed 24-year-old, dominated, confused the Yankees dangerous offense with his unorthodox side-arm delivery.
He sent down the first six hitters he faced and only ran into trouble in the third inning, but allowed just one run on a sacrifice fly after relinquishing consecutive singles to begin the frame. He lasted only five innings because of a high pitch count, but pitched brilliantly.
New York could only muster six singles off of him, while striking out four times. With this performance, especially against a powerhouse such as the Yankees, he showed manager Terry Francona that he belongs in the rotation not just for the time being, but for the remainder of the season.
The back-end of the pitching staff would be stabilized and, seeing as the bullpen is stacked, there is no need for him as a reliever. Well built at 6'6″, Masterson, though baby-faced, is imposing. To silence the same Yankees bats that raked up 11 runs the day prior meant a lot, not just for his growth, but for the team's skyrocketing confidence.
Ellsbury is another player who has provided a much-needed jolt of late. Batting in the low-.200's for the longest while, the former Oregon State Beavers' standout has caught fire.
Entering this game, he had a hit in eight of nine, raising his average from a horrid .194 to a satisfactory .275. His batting average only increased with his play in the series finale against New York. He singled to start the bottom of the first inning and, though he was promptly doubled-off first base on a liner to Robinson Cano, his continued offensive production was a good sign.
Ellsbury set up David Ortiz's sacrifice fly in the third inning by beating out an attempted double-play, stealing second base, then moving over to third on a misplaced grounder by third baseman Angel Berroa off the bat of Dustin Pedroia. If this wasn't enough, he was in the middle of things in the fifth inning as well.
Pettitte, who rarely hands out walks, did so to catcher Jason Varitek to begin the frame, then again to Ellsbury after an out was recorded. Ortiz, who is finally starting to show some life offensively, drilled a double that scored Varitek.
Ellsbury was forced to stop at third. He didn't stay there long. Pettitte was slow to the plate with his first pitch to the left-handed J.D. Drew.
Ellsbury studied this.
As Pettitte began his windup, Ellsbury took off
—with the bases loaded and two-out, nonetheless. Red Sox fans rose in unison, anticipating a rarity. Ellsbury, before Pettitte or Posada could react, slid head-first into home plate. It was his first steal of home since college, and a gutsy, courageous play. A play only he, the fastest player in the majors, could pull off.
Boston tacked on one more run and, thanks to the strong pitching from their bullpen, especially by rookie Michael Bowden, one of the organization's top prospects, who tossed two perfect innings in his 2009 debut.
They swept New York and won their tenth straight game. Sure, Masterson deserves a lot of credit, as does Ortiz and the bullpen, but no player made more of an impact than Ellsbury. His steal of home will go down in Red Sox lore, made that much more meaningful against such a pitcher as Andy Pettitte, and a team such as the Yankees.