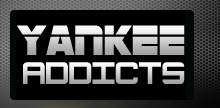 May 23, 2009 · Ari Kramer · Jump to comments
Article Source: Bleacher Report - New York Yankees
Nick Swisher heard MVP chants early in the season, when he recorded 13 hits, 10 of which were extra-base hits, in his first 10 games.
The fact that Swisher's career batting average was .243 meant nothing to Yankee fans, who began talking about how the trade for the former Ohio State Buckeye would make the Yankees' season. As Borat would say, "Ehh not so much!"
In his last 31 games, the jocular Swisher is hitting a paltry .176 and has struck out 36 times. He still has a starting role, primarily as the right-fielder, and the only reason that fans are not yet calling for his head is that they know he is an exemplary clubhouse figure who keeps the team upbeat and in a good mood.
For that reason, you can expect Brian Cashman to hold onto Swisher.
However, Joe Girardi must make a lineup change to alleviate the damage the Yankees have suffered from Swisher's cold bat. Girardi's options certainly are not plentiful, and he would probably need to make Melky Cabrera an everyday starter and to replace Swisher with the speedy Brett Gardner.
Gardner has not been swinging a hot bat, but his speed has the potential to change games. For evidence of this, recall last Friday's game against the Twins, when Gardner's inside-the-park home run and triple were integral to the Yankees' come-from-behind walk-off win. His legs can also break up double-plays and steal bases.
Gardner does not walk as much as Swisher does, so his on-base percentage is lower. However, he is better at putting the ball in play. Compare his strikeout to at-bat ratio of one-to-six to Swisher's ratio of one-to-three.
Gardner's fielding is not sensational, but it is certainly not worse than Swisher's so the Yankees won't be hurt on the defensive side by this switch.
Girardi should make sure to get Swisher into games as a pinch-hitter so he will still get at-bats. Hopefully he will break out of his slump by pinch-hitting, and, if everything works out, he will be able to return to the starting lineup.