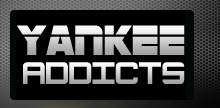 January 6, 2010 · Ian Hunter · Jump to comments
Article Source: Bleacher Report - New York Yankees
"I've made some mistakes, definitely, but I believe I deserve to be in Cooperstown."
Roberto Alomar will hopefully add "Hall of Famer" to his long list of incredible accomplishments as we will all be anxiously anticipating today's announcement at 2:00 pm EST for the 2010 inductees into the Baseball Hall of Fame.
Alomar is one of the favourites and almost a lock to get into the Hall of Fame, as predicted by Chris Jaffe of Hardball Times. The Baseball Bloggers Alliance also agreed Alomar should be a first-ballot Hall of Famer.
Although he wasn't a "home-grown" player who came through the Blue Jays farm system, it certainly felt like Robbie Alomar was a product of the Blue Jays organization. During his tenure in Toronto, Alomar was a five-time Gold Glover, five-time All-Star, a Silver Slugger, not to mention his two World Series rings.
Alomar ate, breathed, and slept the city of the Toronto—so much so that he even lived at the Skydome Hotel.
Alomar didn't exactly win the fans over in his last season as a Blue Jay. After David Cone was sent to the New York Yankees, Alomar left the team in protest over the trade. In what would be his final game with the franchise, he also sat out the final game of the 1995 season in order to protect his .300 batting average.
Despite all of these things, Alomar acknowledges he made mistakes throughout this career, and it's safe to say that Blue Jays fans have forgiven him. I just hope the BBWAA voters also looked past those mistakes and make the right choice on their Hall of Fame ballot.
Don't forget to stay posted to the Baseball Hall of Fame's Web site starting at 2:00 pm for the announcement. Good luck, Robbie!
Read more New York Yankees news on BleacherReport.com