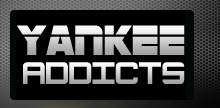 News published by
January 6, 2010
"I've made some mistakes, definitely, but I believe I deserve to be in Cooperstown." Roberto Alomar will hopefully add "Hall of Famer" to his long list of incredible accomplishments as we ...
December 9, 2009
Any time I hear the phrase "surprise team" during the winter meetings, I am afraid...very afraid. Especially since there is a rumored "surprise team" that is involved with trade talks ...
November 6, 2009
Today the Yankees enjoyed a lavish ticker-tape parade down Broadway Avenue celebrating their 27th World Series Championship. While most folks in New York came out in droves to celebrate, the ...
November 5, 2009
Very quickly, congratulations to the New York Yankees on becoming World Series champs. There was nothing overly dramatic about Game Six or the series in general; however, good for the Yankees ...
November 4, 2009
After having the pleasure of watching five relatively exciting World Series games, there are a few things that have stood out in my mind as noteworthy. The following is a ...
October 28, 2009
  After what has seemed like an eternity since the end of the ALCS, the World Series is finally ready to get underway later tonight. On paper, I ...
October 21, 2009
One star has taken over the headlines and drawn all the attention on themselves this post-season. It's not Alex Rodriguez, not Ryan Howard…I'm talking about the umpires. ...
October 16, 2009
It's safe to say that there is a lot of pressure on Alex Rodriguez going into the ALCS. As the highest paid player in the league on ...
October 15, 2009
Last year, some of us got all googly-eyed at the potential of seeing a World Series where Manny Ramirez would go against the very same team that traded ...
September 16, 2009
Depending on whom you talk to in the blogosphere, Jorge Posada's actions last night were deserving of the highest honors of douchebaggery, or he was simply standing up for himself. ...