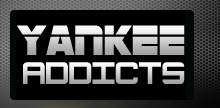 March 25, 2010 · Bronx Baseball Daily · Jump to comments
Article Source: Bleacher Report - New York Yankees
This announcement doesn't exactly come as a surprise, but Yankees manager Joe Girardi made it official today, Phil Hughes—not Joba Chamberlain—will be the Yankees fifth starter going into the season.
"I think Joba could do either job," Girardi said, "but right now we feel Hughes is ahead as a starter."
The guys who weren't named fifth starter, Joba and Sergio Mitre, are not guaranteed bullpen spots according to Girardi. That supposedly includes Joba, but it is probably meant more for Mitre who could still be cut in favor of a second lefty that's probably going to be Boone Logan.
Apparently, this move was more about the Yankees thinking Hughes was better prepared to start in the rotation compared to Joba, and that the development of his change-up played a big role in this decision.
Hughes is expected to have an innings restriction, but because he's already pitched full seasons as a starter in the minors, his restrictions will not be as strict. The beat writers seem to expect the innings limit to be in the 170-175 range.
What we haven't heard yet is what exactly this means for Joba. It might mean that they still see him as a future starter, or it could mean that they are preparing him for a future as a closer. It is doubtful, though, that they would come out and say that he's a reliever only going forward as that would be admitting that the last two years of "Joba Rules" were for nothing.
The only way I can see that this move really makes a lot of sense is if the Yankees want to make sure both Joba and Hughes are stretched out enough to pitch 200 innings in 2011. Otherwise, if the Yankees do only envision Joba as a reliever, they might as well trade him. He could bring the Yankees much more value in a trade than he would bring to the club as a middle reliever, or even a future closer.
Related Stories
Read more New York Yankees news on BleacherReport.com