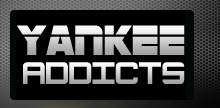 December 7, 2011 · Harold Friend · Jump to comments
Article Source: Bleacher Report - New York Yankees
Alex Rodriguez would have been the greatest shortstop of all time. He would have left Hanley Ramirez in the dust.
The Miami Marlins shortstop, never a team player, continued that tradition when he announced that he would not move to third base.
"Hanley doesn't want to play third base and the Marlins were informed of that," a source said. "Rather than ask for a trade, what he has done is to inform (the team) that he does not want to play another position other than shortstop."
Most fans and those in the media compare Ramirez' refusal to A-Rod's acquiesce when the New York Yankees traded Alfonso Soriano to the Texas Rangers for Rodriguez, but that is not the real angle.
Why is Hanley Ramirez being excoriated while Derek Jeter was, is and always will be hailed as the ultimate team player?
In 2004, A-Rod was clearly a better defensive player than Jeter. The New York Yankees would have been a better defensive team with Rodriguez at shortstop and Jeter playing third base, but baseball's best shortstop at the time deferred to Jeter.
An American League scout said he would start Rodriguez at shortstop and move Jeter to second to replace Soriano
George Steinbrenner and Brian Cashman spoke to Jeter, assuring him that the would remain the shortstop. At the time, A-Rod had won two consecutive Gold Glove Awards to Jeter's none.
Speaking to the media, Cashman said,
"This move would not have happened unless Alex Rodriguez moved to third base. Otherwise, we wouldn't even consider it."
It was believed that Rodriguez was almost obsessed with New York. It didn't matter if he played for the Yankees or the New York Mets. He wanted to leave the Texas Rangers to play for a New York team.
The desire to play in New York was enough for A-Rod to eschew becoming, at worst, the second greatest shortstop ever behind Honus Wagner.
Many believed that Jeter and the Yankees would eventually yield, with Jeter moving to third base. That never happened and now that Rodriguez has suffered some injuries to his hip, it never will.
Alex Rodriguez was on a world champion in 2009. He has been roundly criticized by the media, some of it fairly, some of it unjustly, but the fact remains that Alex Rodriguez made a great personal sacrifice to finally play on a World Series winner.
It is fascinating to follow the soap opera in Miami.
Will Ramirez move to third base to make way for Jose Reyes?
Would Reyes and the Marlins consider moving Reyes to third base?
Will the Marlins really trade Ramirez?
Don't forget. Ozzie Guillen is the manager.
References:
Kepner, T. (2004, Feb 17). Yanks assure Jeter hes safe at shortstop. New York Times (1923-Current File), pp. D1. Retrieved from http://search.proquest.com/docview/92837245?accountid=46260
Curry, J. (2004, Feb 15). The lure of new york is too strong to resist. New York Times (1923-Current File), pp. SP1. Retrieved from http://search.proquest.com/docview/92869021?accountid=46260
Read more New York Yankees news on BleacherReport.com