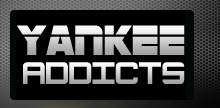 April 5, 2010 · Tom Au · Jump to comments
Article Source: Bleacher Report - New York Yankees
A Yankees fan has to be wondering about a certain contract today with regard to their ace, CC Sabathia, after last night's opening against the Boston Red Sox. What's nearly as bad is that he was drubbed twice, in spring training, by the otherwise lowly Pittsburgh Pirates.
Sabathia, like almost any other player, has his "streaks." He pitched a great 2007 season for the Cleveland Indians, then "choked" in the ALCS that year, against Boston no less.
Last year, he came on strong in the second half, carrying this strength into the postseason. But his streak may have been broken this spring.
But the problem with signing Sabathia, or anyone else, to a seven-year contract, has to do with a longer term issue. The "half life" of an average professional baseball player is five-and-a-half-years. That is to say that only half of today's rookies will last in the game that long.
A player that has survived for that span may be good for another, comparable, half life. Players that last much past the 11-year "life expectancy" are stuff of legends, just as someone who lives until age 100 might be in real life.
Sabathia is being paid some $161 million over seven years, or $23 million a year. A pitcher, or other player, may possibly be worth that for two, three, four years.
But seven years (which comfortably exceeds a half life) is stretching it. That's why most contracts are for up to four years, not seven. That gives the team a chance to re-evaluate an aging player, and adjust the salary, usually downward, as the Yankees did with Andy Pettitte.
Jason Giambi was another player signed by the Yankees for some $115 million over seven years in 2002; it was a lovefest at the beginning, and a broken romance at the end. His problem was a "special" one in that substance abuse had inflated his statistics.
But fundamentally, the Yankees had overpaid for performance that simply could not be maintained for the whole stretch. At the end, Giambi was a fat, slow, aging fielder with deteriorating batting skills that was a liability to the team, never mind being paid $21 million his last year.
Hopefully, Sabathia doesn't have Giambi's particular problems. But Sabathia is in the middle of an aging curve that applies to just about everyone except someone like Jamie Moyer or Phil Niekro.
That is to say that odds are, he won't be worth $23 million six more years out; one has to hope that the Yankees recoup in the earlier years. There is an opt-out clause at the end of four years, but it is a PLAYER's option, basically for personal reasons. A Yankees fan might hope that he exercises it.
Maybe what happened last night is part of the aging process. And maybe Sabathia's struggles, at least against a particular team, are just the reverse of the Curse of the Bambino.
Read more New York Yankees news on BleacherReport.com