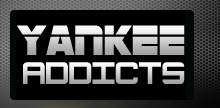 February 26, 2010 · Colin Krouse · Jump to comments
Article Source: Bleacher Report - New York Yankees
In the '03-'04 offseason, Aaron Boone, the Yankees third baseman who, the past season, sent the Yankees to the World Series on a homerun off knuckleballer Tim Wakefield to end a grueling, dramatic seven-game series with the Red Sox, tore his ACL in a pickup basketball game.
Thus, getting the Yankees to start looking for a new third baseman.
Thus, asking Alex Rodriguez if he'd be willing to move to third base to play for the Yankees.
Thus, eventually, making A-Rod a Yankee.
It proved to be a terrible mistake at first.
While Rodriguez was able to put up good numbers, he was a distraction in the clubhouse, a subtraction in the team chemistry department, and not a popular figure even with Yankees fans.
Why?
Because of his inability to perform in the clutch and postseason, his strained relationship with Derek Jeter, and his obsession with his individual stats.
Not a great mix—A-Rod and the hostile, impatient Yankee fans (I'll admit, I'm one of them).
Early 2009, it was revealed that Rodriguez used performance-enhancing drugs in his three seasons with the Texas Rangers. The news blew up everywhere.
Then, we found out that he needed hip surgurey, and he would miss about six weeks of the season.
When his awaited return finally came, he was warmly greeted by a birrage of boos at Oriole Park at Camden Yards.
His first swing resulted in a homerun.
He put up good numbers in that '09 season despite missing that month and a half.
He helped lead the Yankees to first place in the AL East, propelling them into a divisional series against the Twins.
This postseason, he finally came out of his playoff blues, hitting extremely well in the clutch, too.
He got his first ring, beating the Phillies in a six-game World Series.
This offseason has been somewhat quieter than his last. But he did address the media at the Yankees spring training complex in Tampa, FL on Thursday.
He said that 2009 was the season where, after all the hectic happenings in the beginning, he came out of his individual self, and started focusing on the team and winning. He said it was his best season because of that.
Now, we wonder: Is he sincere?
I think: Yes, absolutely.
It sure seemed like that on the field. It would explain why he started avoiding anything controversial. And it would explain why he helped lead the Yanks to their 27th.
The way he talked was pretty convincing, too.
It's about time, A-Rod.
I've never really been a fan of his because he seemed to look for attention; he seemed to look for ways to show us how good he was.
Hopefully, it truly is sincere. Because I'll take the '09 A-Rod over any other A-Rod in his great, Hall of Fame-bound career.
Read more New York Yankees news on BleacherReport.com