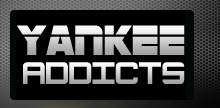 February 24, 2010 · Bronx Baseball Daily · Jump to comments
Article Source: Bleacher Report - New York Yankees
There has been a lot of talk about Johnny Damon this offseason.
Nothing seems able to stop it: Not the Yankees replacing him in the lineup with Nick Johnson and signing Randy Winn, leaving no room in the outfield, or even Damon signing a contract with a different team could stop it.
When Damon says stuff like this, he becomes hard to ignore:
"This is where I wanted to be from day one," Damon said talking about Detroit. "This is where we wanted to be. It is where my family wanted to be. Contrary to what has been reported, I wanted a place where I could win right away. I have always been truthful, and Detroit was always my first choice, and my wife and I are going to love it there."
"I feel like I belong here. It took a little while, but I probably felt like I was a Tiger a month and a half ago. I really feel good about this."
Really? Because as far back as last spring training, Damon has been saying that he wants to stay in the Bronx. So I'm wondering when day one was. Last week? And speaking of his wife, from what we've heard, Detroit is not where she wanted to end up and that she preferred Chicago.
Of course he's lying. Scott Boras even got his man—I'm talking about Jon Heyman of Sports Illustrated of course—spreading the word that it might have been the Yankees' desire to sign Carl Crawford next offseason that kept them from offering Damon a multi-year deal. You can tell it's spin because the Yankees did offer Damon a two-year, $14 million deal. We've even heard from Bob Klapisch of the Bergin Record that Damon has admitted to regretting passing up that deal. Yeah, that sounds like a guy who's wanted to be in Detroit from day one.
At least it seems like he's got another Boras client, Alex Rodriguez, in his corner.
Related Stories
Read more New York Yankees news on BleacherReport.com