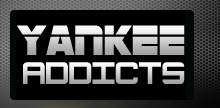 March 7, 2010 · Bronx Baseball Daily · Jump to comments
Article Source: Bleacher Report - New York Yankees
Young arms seem more important today than ever and the Yankees have tried very hard to take care of their young arms, specifically Joba Chamberlain —I'm talking about the Joba Rules.
But have they all been for nothing? It was a question Bernadette Pasley poised on her blog Lady Batting recently:
"Joba Chamberlain was on an innings limit last year to preserve his young arm. This year, assuming he wins the 5th starter's job, he'll have no innings limit.
What if he doesn't win the job?
I was all for the way they treated Joba last season. I had no problem with them having him pitch three innings here and four innings there. I wasn't one of those people who kept saying, "Let Joba pitch!" I didn't think the Yankees were messing with his career. I didn't think he was being jerked around. I didn't think the Joba Rules were crazy. But, if he doesn't get the job I will think they were crazy. The Joba Rules will have all been for naught.
Isn't 2010 what the Joba Rules were for in the first place, building up his innings so that he can pitch without holding back in the future? The future is now, but Joba might be left in the past and, instead of Joba pitching without an innings limit, we'll be subjected to the Hughes Rules (because Phil Hughes will need an innings limit, too), and Joba will be back in the bullpen, having gone through what he went through in 2009 for nothing."

It's a very good question. If Joba is in the bullpen this season, were the Joba Rules for nothing? Maybe.
I don't think the rules should not necessarily be considered a waste in the sense that it's always smarter to be cautious with young arms. If the Yankees believed that Joba was going to in their rotation then they absolutely should have enacted the Joba Rules. And you know what? Sometimes plans change.
However, part of me feels like that if Joba Chamberlain is not in the rotation to start the season, they are giving up on him too early and in a sense the Joba Rules were for nothing. Sure his numbers were inconsistent last season, but he was 23-years old and did manage to run off a streak of 7-2 with a 3.58 ERA which even by the Yankees high standards is amazing.
He struggled late last season, but I think it was clear that he hit a wall of sorts last season. Taking him out of the rotation for the playoffs last year was probably smart, but to remove him from the rotation for good would be a huge mistake. So in the sense that it is irresponsible to give up on him so early, the Joba Rules would have been for nothing.
Read more New York Yankees news on BleacherReport.com