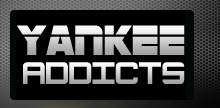 April 19, 2010 · Harold Friend · Jump to comments
Article Source: Bleacher Report - New York Yankees
In 1947, Ted Williams won the American League's Triple Crown. He led the league in batting with a .343 average, in home runs with 32, and in RBIs with 114. Williams had a .499 on base average, a .634 slugging percentage, and drew 162 walks.
In 1947, Joe DiMaggio hit .315 with 20 home runs and 97 RBIs. He had a .391 on base average, a .522 slugging percentage and 64 walks.
There is no comparison.
The MVP Was the Best Player
Lefty Grove was the first Most Valuable Player selected by the Baseball Writer's Association of America in 1931. There is no formal definition of "Most Valuable Player," but the September 29, 1931 New York Times headline reads,
"Grove is Named Most Valuable Player in American League; Writers Pick Grove as Best in League."
The voters based their selection on whom they considered to be the league's best player. With the passage of time, voters have based their choices on many factors, including some not related directly to baseball.
Anti-Ted Williams or Pro-Yankees Bias?
In 1947, three writers from each American League city, a total of 24 "experts," determined the MVP. Joe DiMaggio received 202 votes. Ted Williams received 201 votes.
Many Boston writers attributed the result to the fact that Yankees won the pennant, but despite a contentious relationship with Williams, most of the Boston writers felt that he had been robbed, because he was.
The New York Yankees won the pennant, while the Boston Red Sox, the defending American League champions, finished a distant third, 16 games out. Did that make DiMaggio more valuable than Williams?
Ted Williams had a better season, but was DiMaggio the better player? Was DiMaggio's superior defensive ability and base running skills enough to offset Williams' offensive advantage? Not in 1947.
Williams Would Have Won if…
Harold Kaese of the Boston Globe examined the MVP ballots. He discovered that one writer had left Williams off his ballot. Williams thought is had been Mel Webb, but much doubt about the writer's identity still exists.
Step back a second. Were there 10 players more valuable than Ted Williams? If the culprit who left Williams off the ballot had given Ted no more than a ninth place vote, he would have won.
Kaese also uncovered the startling fact that three writers didn't vote for DiMaggio. Perhaps one should question the motives or competency of the voters, but it gets more bizarre.
Eddie Joost Hit .206 and Received Two First Place Votes
The Philadelphia Athletics finished fifth. Their shortstop, Eddie Joost, hit .206.
Yes, Eddie Joost really did hit .206, and while other regulars have hit as low or lower for a season,, Joost has a special distinction.
Eddie Joost batted .206, hit 13 home runs, batted in 64 runs, and received two first place MVP votes. Remember that the next time there is a discussion about who is the league's MVP or Cy Young Award winner.
Only one of two conclusions can be drawn. Either those who vote for the MVP allow their own personal feelings interfere with their selections or they are simply incompetent. Both conclusions are probably true.
References:
Associated Press. "Grove Is Named Most Valuable Player in American League. The New York Times. 29 October 1931, p.30.
Drebinger, John. "Yankee Star Leads Williams by Point; DiMaggio Selected for Player Award With Score of 202 by Baseball Writers." The New York Times. 28 November 1947, p.36.
Read more New York Yankees news on BleacherReport.com